Manchester heavy rock band Absolva feature the twin-lead guitars of Luke Appleton (the bass guitarist with Iced Earth) and brother Chris Appleton (who has been the guitarist for Blaze Bayley.) They started out as Fury UK. Now, with Martin Mcnee on drums and Karl Schramm on bass, the talented kin are about to release their superb new LP 'Never A Good Day to Die'.

The album opens with 'Disguise' and an acoustic intro, sentimentally plucked. This leads easily and with uninterrupted ease into an expressively weeping soundscape of soft, delicate shades. Then the chugging rhythms begin. The vocals are light in colour but not blurred. And the guitar work is regenerating. Like tiny vortices of electrifying silver patterns, in the darkness. The melody is also memorable. This is a very finely created and superbly rendered piece.
'Killer Within' is dark ashen in texture and will weave a spell around your wits. The voice is sharp and percussion is determined, fierce and accomplished. Here guitar notes deliberately cut the skin. And the repeating loops of sound rotate themselves deep into your skull. There is an eerie sense of contrition here. But the sounds are never disordered or confused. They are there to guide and narrate.
'No One Escapes' has enormous blocks of guitar with polished edges. This has a black-heart at it's core and feels like something from Black Sabbath circa 1972. Heartbreaking lyrics, sensitive use of lead guitar and hearty riffs. What more would you want?

Sad ballad 'How Black Is My Heart' has a thin, light-blue guitar-line that fizzes menacingly — like a fuse on a stick of dynamite. The guitars here are soft and golden. The piece has artistic attributes, and a wealth of beauty. If you like to imagine Arwen saying a permanent goodbye to Aragorn at Rivendell — then this is the song for you. It will take you there, to the Magic Kingdom. In this song, Nothing is impossible. Nothing can be sadder. It is sensual, descriptive and expression-filled.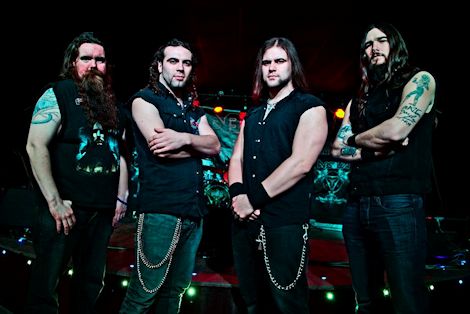 'Transform' is slightly different. And struts it stuff with a breast filled with excitement. The vocals are sparkling and the driving rhythms churn up a series of feelings inside your head, that will not let go. You will be as frenzied as the riffs. This is a joy.
There is a real sense of connection here. Connection between musicians. Connections between the flow & trace of the tracks. Connections between the chemistry and the art. Themes can be dark, but the light shining on them is brilliant. Here are silent tragedies and agonized emotions played out in exquisitely hand-crafted and wonderfully precise detail.