The modern thrash outfit Act of Defiance, which hails from the US and includes former Megadeth six-stringer Chris Broderick and drummer Shawn Drover among others, showed a lot of potential and promise a couple of years ago when the debut offering entitled Birth and the Burial was unleashed upon the unsuspecting masses. While not utterly convincing from start to finish nor solid all the way through, there was clearly a certain quality to the music and something about the band that could develop into a wonderfully dangerous and exciting breed of extreme metal. Thankfully, this 2017 effort of theirs suitably named Old Scars, New Wounds marks an overall improvement over its predecessor and pretty much each of its eleven tracks are memorable and delightfully intense.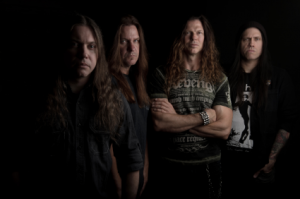 Some riffs are so well-crafted that it nearly hurts and are akin to nine inch nails being driven into your skull. Lovely stuff! As to the actual song arrangements, it seems as if these guys have truly laboured over them in that they are clever and unpredictable yet everything seems to flow together quite nicely. The musicianship is superb and the band as a whole is insanely tight, which is hardly surprising considering the fact that these guys must have played over a hundred gigs on the back of the debut album. Vocalist Henry Derek Bonner has really come into his own and sounds more passionate and energetic than ever before. On top of that, the production is slightly warmer and more organic compared to that of Birth and the Burial, which was a little too clinical and sterile for its own good. Although hard-hitting and punchy as hell, Old Scars, New Wounds benefit greatly from being slightly rough around the edges. Singling out standout cuts is no easy feat, but the epic and dynamic
shows depth and substance, 'Molten Core' is an all-out assault on the senses, 'Reborn' is a blistering thrash anthem, and 'Rise of Rebellion' is a rumbling atmospheric tune that may well be the band's finest composition to date.
Whether you are into latter-day Slayer or Devildriver (or anything in between for that matter), Act of Defiance's sophomore record is a focused and hook-laden beast of an album that will pulverise your tiny little mind. Sure, this is neither a modern metal masterpiece nor a future classic by any stretch of the imagination, but it is vicious, razor-sharp, and thoroughly entertaining from start to finish. If you find yourself in dire need of an violent headbanging experience, look no further than Old Scars, New Wounds. This is just what the good thrash metal doctor ordered and will connect with metal fans both old and new.