It may be more than a decade since the heyday of nu-metal, but the tremors from its impact are still being felt. While most music fans accepted the genre as a short blip on the musical timeline, its devotees have been lurking in the shadows, planning a return and there have even been whispers in the last few years that a revival might be on the horizon. Do revivals really come around so quickly these days? With people like Emmure bringing the genre up-to-date and Deftones and Limp Bizkit still turning out what they do best, why shouldn't it happen?
Well, if the nu-metal revival is coming, Another Dead Hero want to be part of it. The Lancashire five-piece have been grafting away since 2003 making solid but straight-forward metal, but with their fourth full-length album, 'Dystopia' they've taken a turn for the nu. It sounds decidedly 2001. And in doing so they've created their most interesting album to date.
The record kicks off emphatically with 'Change the Game' and it's a fitting title for the northern metallers, who've taken a bold step away from their previous efforts with this album. Opening with all the percussive bravado of Slipknot, it's a potent statement of intent. Combining a hip-hop attitude with the odd bitonal vocal melody, there's no doubt this lot have been cranking out Deftones albums before band practice.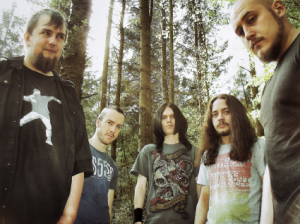 That said, Deftones have always had one of the most unique sounds in the whole of rock, let alone nu metal (a label they have always resisted), so it's easy to assume people are ripping them off when they manage to emulate them somewhat. Another Dead Hero aren't. Their melodies and lyrics are entirely their own, and the atmosphere they create has a lot more classic rock thrown in than that of Chino Moreno and co. In fact, to sound like Deftones at all is an achievement in its own right.
While the band may no longer be teenagers, 'Dystopia' is an album full of all the teenage defiance that the nu metal wave kindled all those years ago. Dynamic, rebellious and well-written, it's the result of over a decade's songwriting practice. 'Greed' has more than a hint of glory-days Korn about it and the delayed guitar line on 'Stoner' could have easily fitted on a Limp Bizkit album. By the time you get to the wubby, dubstep-corrupted bass of 'Control Mkii' you'll have witnessed metal collide with a good few genres on your way.
For those of us who were there in the early years of the millennium, our baggy jeans dragging as we moshed in a grubby local rock venue, Another Dead Hero do a great job of recapturing that moment. For those who weren't there, this is a good rendition of the sort of thing the nu metal scene loved and, who knows, maybe a herald of its resurrection.
Another Dead Hero 'Dystopia' is out 13th October 2014.