Martin Barre, lead guitarist for over 40 years with the Grammy award-winning Jethro Tull, is releasing 'Order of Play', a new album featuring classic material.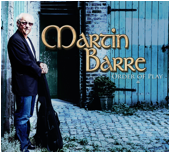 Highly respected and an inspiration to a host of other guitarists, Barre's signature sound is recognised as a major factor in Jethro Tull moving beyond the British 60s blues scene to become an international band who have gone on to sell over 60 million records worldwide. Aside from Jethro Tull he was worked with many other artists including Paul McCartney, Phil Collins, Gary Moore, Joe Bonamassa and Chris Thompson and shared a stage with such legends as Jimi Hendrix, Fleetwood Mac, Pink Floyd and Led Zeppelin, and he is mentioned fondly in one of rock's all-time great autobiographies, Ian Hunter's Diary of a Rock 'n' Roll Star. Over the past two years, heading his own band, Barre has performed live, some of Tull's most loved classics and other songs, winning praise from both critics and fans, with 'Order of Play' being released following such public demand.
"In January 2013, we headlined a festival in Somerset, UK. We wanted a live CD to be a summary of the last two years of our work and this was the ideal opportunity. Fans had kept asking for a CD version of the show, but rather than record an actual gig, thought we would do something better and record live in a studio, with all the energy of a show but with the best sound quality possible," revealed Barre.
Joining the man himself on guitar and mandolin, the Martin Barre Band is completed by Dan Crisp on vocals, acoustic guitar and bouzouki, George Lindsay on drums, Richard Beesley on saxophone and clarinet (the respected session musician also having worked with acts as diverse Michael Buble, Mark Ronson, The Funk Brothers and The Supremes) and former John Martyn Band bass guitarist Alan Thomson.
"With the band in one place, and a couple of days off we met at Middle Farm Studio the next morning, set the back-line up as we do onstage, with Dan in a booth, as he, rightly, felt that it was important to record all his vocals live," Barre said of the recording, adding, "It was really important to keep the feel and continuity the same as a live gig. By the end of the day, we had all the songs finished."
Available from Edifying Records through RSK, in digipak format, the track listing for 'Order of Play' is as follows:
New Day Yesterday
Fatman
Watch your Step
Crossroads
Minstrel in the Gallery
To Cry you a Song
Steal your Heart Away
Thick as a Brick (excerpt)
Sweet Dream
Song for Jeffrey
Rock me Baby
Teacher
Still Loving you Tonight
  Locomotive Breath
The Martin Barre Band will see out the festive season with the following UK winter dates:
4
th
Dec: St Helens – The Citadel 6
th
  Dec: Newcastle – The Cluny 7
th
Dec: Skegness – Folk Festival 20
th
Dec – Leamington Spa – The Leamington Assembly 21
st
Dec: East Devon – Budleigh Salterton Public Hall 23-26Jan: Skegness – Great British Rock & Blues Festival