Four studio albums in and this time round were getting The Dirty Truth. So what's the rap sheet say so far about Joanne Shaw Taylor?
She claims to be a Black Country schoolgirl who went mooching through her daddy's blues collection and found gold. That's suspect, so we'll come back to him later.  "Guitars were always lying around the house," she's said in a statement that also has her playing an electric by the time she was 13, then gigging as far afield as The Marquee and Ronnie Scott's a year later. How much school absenteeism may have been involved isn't recorded, but she officially left at the age of 16 having been discovered by The Eurythmics' Dave Stewart's who took her under his wing and declared: "She made the hairs on the back of my neck stand on end."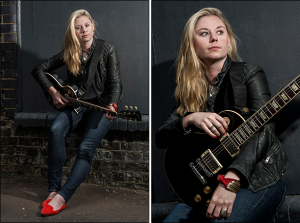 A few years later she took off for America where Jim Gaines produced her solo album White Sugar, this 2009 debut was nominated for Best New Artist Debut at the British Blues Awards where she was to win the Best British Female Vocalist award the next two years running. Meanwhile, over in the States her records have reached as high as number eight in the Billboard Top Blues Albums chart, and in 2012 life went almost full circle as she played guitar while The Eurythmics' Annie Lennox sang live at Buckingham Palace, as part of the Diamond Jubilee Concert, an event seen on TV by 17 million viewers. Now, The Dirty Truth finds the lady reunited with Jim Gaines in the production seat, and she's also retained the same rhythm section of Dave Smith on bass and Steve Potts on drums, with Rick Steff adding keyboards, that's been released on her own independent boutique label Axehouse Music in the UK.
"I wanted to go back into the studio in Memphis with Jim to retain the same vibe that we captured on the first album," Joanne stated. "The new album is a combination of rock and blues. It's an exciting collaboration, and hopefully my fans will love the more stripped down sound." On the evidence of this album JST has a predilection towards blues shuffles but she sure knows how to vary them. However, the album opens with 'Mud, Honey' an explosive little rocker that races out the traps, unrelentingly; ever on the beat like a jackhammer, with a blues edge referencing the Mississippi and its muddy waters while singing about being  cheating upon as she wrangles out a classic rock 'n' roll solo that runs up the neck only for the music to break down into a slow reflective section before the band dive back full tilt and she slides out a second solo, whammy bar in right hand, pulling licks, and fingered riffs aplenty then returns to the song before its all breaks down in a tremulous blues vein. It's classy, tight, and gets the album off to a great start. "It's a fictional song about a gangster style character who've burned too many bridges," said JST, of a song that unsurprisingly originally started off as an instrumental.
"I was actually attempting to write a country track," she said of the title track that tells a fiction tale of violent abuse, but it turned into a far bluesier track where as the tempo builds she solos; adding diverse lick infections then roaring out the song's conclusion in a haze of dirty feedback. Next up she takes a more autobiographical approach for what is one of the album's highlights in 'Wicked Soul' – Some might liken it to Free but I'd opt for the funkier sounds of Crawler with the band swinging hard and her rhythm guitar chopping out lines while her lead playing thrusts from the hips. She's got grit in her voice here but also croons in some higher notes. It's sensual, sexy even. There's innovative guitar work within the song itself, each solo taking a different direction; communicating to giving its own musical take on the song's story, with a warm organ sound throughout.
'Fool in Love' is a pop country groover with a catchy chorus; it possibly hangs round a verse too long although that maybe because the long-playing listener becomes aware another highlight follows with 'Wrecking Ball' – This an upbeat blues funk shuffle of the kind The Doobie Brothers were rolling out during their Living on the Fault Line era so still retaining a rock beat that here builds towards the pre-chorus for some Lenny Kravitiz meets War attitude with a raucous shout or two thrown in, some musical diversions during the middle eight, and a great albeit brief solo near the end. The guitar intro to 'Tried, Tested and True' makes you think of the sun setting down on a lovely beach, and this slow ballad has JST's singing  evoking Bonnie Raitt before veering into a gospel quality pre-chorus then concluding with a sweet lullaby of guitar solos over which the organ arches high. 'Outlaw Angel' fires in a totally opposite direction a strident Texas blues shuffle featuring a hardy rock riff, that I imagine will be rather powerful played live because she tosses licks out with grim fury, the sound piercing, the band  tight and sassy.
'Shiver and Sigh' is a co-write with Kevin Bowe from over a decade ago. "Up until the past few years it had been a main staple of my live set list but I was never able to find the right album to put it on until we began this album," JST explained. "It's a song about an unrequited love and for that reason I wanted the vibe of this song to be quite dark." Again I find this reminiscent of Crawler and it's a song people probably can't help shaking their heads or tapping their feet to, so if you'll allow me this brief crude diversionary thought; were I watching Miss Shaw Taylor play this live, my eyes might momentarily turn from her own appealing features to be focussed on the women who would inevitably be shaking their backsides in front of me. Returning to musical contemplations the second guitar solo is a nice little workout with the organ chiming in. It's followed by the blue rocking 'Struck Down' and then album concluding  'Feels Like Home' that features a rhythm guitar akin to Hendrix's cosmic nursery rhyme approach married to vocal melody variation on Blood, Sweat & Tears'  hit single 'Spinning Wheel'. Initially it takes a little getting used to, then it becomes infectious and another must-listen-to track, not least with its conclusion as the music slows down only for her to play a double time solo over it.
Joanne Shaw Taylor tends to keep her smokey vocals within a certain range, but rather than it limiting matters it draws you in to listen to her lyrics more, ones that play with clichés to push the envelope just a little now and then. It's something her father did, clichés aside, back in a different time before Crime Watch was screened into the nation's households; Shaw Taylor was a name to be reckoned with in the Midlands, offering a voice of concern and trust on Police 5 for ATV. It's good to know those genes have been passed on, and that his blues records collection was put to good use. But as for her guitar playing? If we can argue that Joanne Shaw Taylor hasn't found anything new  to say or express on a guitar we should at least nod our heads in agreement that she has a new invigorating take on how to interpret them!
The Dirty Truth can be purchased direct from Joanne Shaw Taylor's website, and no doubt will be on sale as part of the merchandising stand during her forthcoming 14 date November UK Tour with former Whitesnake guitarist Bernie Marsden appearing as special guest.