When a band such as Anti-Flag come such a huge milestone in their musical careers – a retrospective of 20 years work, can give the fans and the band a chance to look at their finest moments as well as song's that have been over shadowed by their greater musical achievements.
'A Document of Dissent' is Anti-Flag's journal of their views and journey as a punk band that has been firmly against American politics since the band formed. Marking the evolution of their musical career, which has commented on world events that have occurred in the 20 years of their career. Championing their anti-war, anti-imperialism, pro-human rights ethos with song's such as 'Die for the Government' – which opens the double album with the accapella chant of "Your Going to Die for Your Government". This is followed by 'Fuck Police Brutality' which turns up the tempo showing the bands talent for writing a fast track that carries a message, making sure that it sticks in your mind long after the song has finished.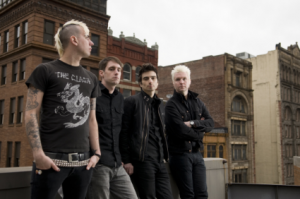 'Power to the Peaceful' marks the half way point in 'A Document of Dissent' showing how much the bands song writing and sound has evolved over their first decade as a band. 'Death of a Nation' and 'The Press Corpse' open the second decade of the bands career. '1 Trillion Dollar$' come's as a well-timed punctuation mark in the album with its acoustic guitar lead, speaking about how a great sum of money is wasted by funding wars instead helping those who are in great need. 'Sodom, Gomorrah, Washington D.C.' suggests where god might want to direct his wraith. Next is 'The Economy is Suffering…Let It Die', highlighting the recent finical troubles that we have all been through. 'Broken Bones' rounds off the album in a massive crescendo of punk rock riffling.
The entire album is laced with catch courses and pumping riffs that only deserve to be played at full volume. By the end of this massive punk rock rollercoaster of a double album – you should be jumping around the room with your fist in the air and trying to start a mosh pit with who ever may be near by. I feel that the band could have put some special tracks on the previously unreleased material, as another reason for dedicated fans to make a choice and put their hands in their pockets. There is the absence of two tracks that I think most fans would have like to seen on the album 'Bacon' and 'Fuck the Flag, Fuck You'.
If you are already a huge supporter for the band or this is the first time that Anti-Flag have come to your attention, I suggest that you purchase the album to become more acquainted with the bands music. I look forward to hearing more releases in the future from Anti-Flag, and hopefully they will be putting out a second Document of Dissent in 2034.
9/10
Anti-Flag 'A Document of Dissent: 1993-2013' is out now via Fat Wreck Chords.
Anti-Flag providing a run-down of just what went into this collection in this video: