Don't be fooled by the sweet talking kid at the beginning of this album, as the voice that emanates from the speakers is like nothing I have ever heard before!
Antropofago go on to pulverise anything that gets in their way; amid scuttling beats that hit like acid rain, the gruelling and growling voice is remarkable and leaves an imprint on the mind. The clean voice is also terrifying in its own way, although not sung but spoken and also leaves its mark.
The riffs that are unleashed on the third track are anarchistic and rebellious – the drive and determination is virulent, confrontational and leaves no room for doubters.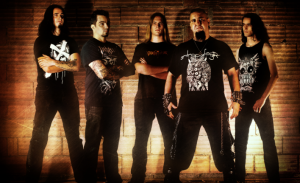 It is an embracing lure of unrepentant persistence that engages on many levels, triggering a lasting impression of energy and backed with total malignancy. The contemptuous riffs linger and burn with a deep hunger that is distinctly appetising!
An encounter with Antropofago can be likened to a suicidal jaunt in the face of a tsunami; it is an impressive album that houses some amazing chords and guitar riffs and really showcases the band's musical talents. The track 'Aera Dementiae' is particularly poignant and profound, showing off the diversity of a skilful band that has a three dimensional offering.
It is easy to get sucked into the band's compositions, obviously provided this is your kind of thing, although technical death metal isn't everyone's Jaegermeister; however, you cannot help but be impressed by the delivery and thought that has gone into making it!
The infectious vocals of Melmoth the Wanderer are incredible; they smoulder and delight with a twist of impurity, amid accelerating riffs and steely beats – it is pure magic itself.
The familiarity of the tracks, for those into tech-death, are still wondrous and rigorous; us fans of the genre know what we like, and this is a very likeable album with a lot of twists and turns to greet you at every corner.

That sense of concentration can be felt and adhered to when listening, and there is certainly no respite from the abundant hostility as the tracks swarm over your ears and pulsate to readily consume you.
To be released 14th August 2015 via Kaotoxin Records.