Bardus are a three piece band hailing from Philadelphia, having never heard of them and seeing the artwork for Stella Porta I found myself instantly interested. The artwork that adorns the album, the style their name is written, all of it just screams to the stoner/doom fan in me, so far so good. A quick look over to their facebook page to see what they have in their bio, "3 piece band creating heavy psyche noise grunge sludge. We keep it simple, trying to get lost in our own world." Bonus, so far I can do nothing but approve of this band, sounds like a great way to annoy my overly noisy neighbours at 3:30am!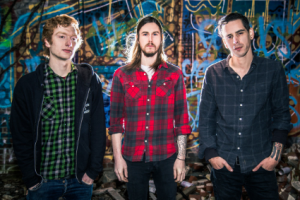 Straight off the bat, the song names fall into place, kicking off with a faster than expected but nothing but what expected. 'Smoke Bath' hits the spot, it's rough, laden with a harshness that cuts through. No prizes for guessing the subject of the track here though! 'Monolith' follows on, sounding like an orgy of grunge bands with EyeHateGod supervising. Stripped back, noisy and constant, this ones easy to lose your head in and nod along with at whatever the hour. 'Sky King' takes that uncomfortable level with the Justins guitar work before kicking in with some awesome riffs, nothing special, but for the style they are it is great, if there is any flaw to it, I'd probably say it's a tiny bit short. I'd love to hear some real super heavy slowness in it at some point, but beggars can't be choosers, and that is just something I'd like to hear, especially with that nastiness at the end of the track.
'Transcendence' is the track I always find myself getting lost in, a great riff all round although very little changes through it. 'Haze' is the track that ticks all the boxes and stands out most on the album. While 'Oracle' lifts the pace a little to start, this finds its way through so many doors until you find yourself coming to the end of the album with the crushing 'Clandestine'.
As a debut album, these guys seem to have lived up to their bio of getting lost in their own world, the whole album is very much the same. They clearly know what they want, what they like, and by the sounds of it, they don't care if you don't. That for me is always part of the charm though. It's a strong start and along with the good number of live shows State-side right now they have going on, they'll have a good few years ahead of them, with any luck they'll get a good following. So when it comes to new material, I hope I and many others will be in for a treat!