If you hear the word "Americana" and your face turns sour and your eyes come-over all glassy — Wait a minute. Figure this: Americana is not just comforting and middle-class, you know. Dylan is Americana. Springsteen is Americana. Where would we be without Johnny Cash? Or Willie Nelson? Those dudes live 'n' breath rebellion. Protest is strong in their heart, although they remain patriots through-and-through.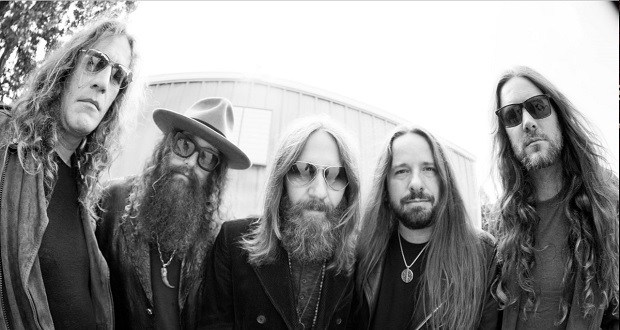 Which brings us to the latest offering from Blackberry Smoke. A Southern ram-jam band from Atlanta, Georgia who have doled out some pretty decent Americana over the last 10 years. They look like the cast of the Sons of Anarchy and they belt out songs in much the same style as that of The Allman Brothers circa 1971.
We listened to the new album, Like an Arrow —
'Waiting for the Thunder' has a strong guitar-riff that would not be out of place on a ZZ Top album. Although it is doubtful that the bearded ones would include the handclaps. Still, that's what makes this Americana, I suppose. This has Gospel acclamations, wizardy keys [from Brandon Still] and enough poison in the temperament to awaken your senses. But, above all, it is a boogie. So your feet will be tappin' and a smile will accidentally break across your face.

'Let It Burn' has chinkles of bar-room piano and chops of boogie guitar. It's like Slim Chance met Elton John at the Honky Chateau. And they all jostled with The Jeff Beck Group.
'Sunrise In Texas' could be too much for those who do not like the idea of redneck rock 'n' roll. So those City Slickers amongst you need to look away now — 'cos this song's about poverty, love, commitment — the sort of things you don't talk about. And it's passionate and moving, so you won't like it. It is a slow rising sun-ballad with slide guitars and all that shit. You'll hate it. You'll especially dislike the gritty riffs and the screaming guitars that speak of threat and heartache, yet somehow they bring you to the very peak of transcendental joy. Oh yes, and it sounds like Bon Jovi's "Wanted Dead or Alive." The bastards.
'Believe You Me' is a funky-jive. With elongated low-notes and chatter-chatter rhythms. The electric piano is sexy and thrilling. But why it's here on this Southern Rock album is a mystery… Who knows?
If you like the idea of riding a Harley into the desert sun. With the wind blowing through your pillion-passenger's long, dark hair… As she hugs-up to you tight in her chesse-cloth shirt & denim shorts… While both of you can see forever-and-forever into the distant horizon… then this is for you…
I suppose it helps if you like Southern Rock too.