Yes, we love the low-down and dirty/mean side of Rock´n´Roll. And the rockin' Swedish band BONAFIDE do it better than most. Now they release 'Denim Devils' – their sixth studio album.
The album starts with some pioneer rock 'n' roll on the opening track 'Round and Round' – it is almost Chuck Berryish in style – clean, tidy and hopping.
Then the Zeppeliny 'Hold Down the Fort' is tight and bulging – like some hastily pulled-up jeans. This has growling energy and claw-fulls of pent-up intensity. It retains its defensive posture as the solicitation of that pounding beat rams home the intent
'Get a Grip' recalls "In the Grip of a Tyrefitter's Hand" (Budgie 1973.)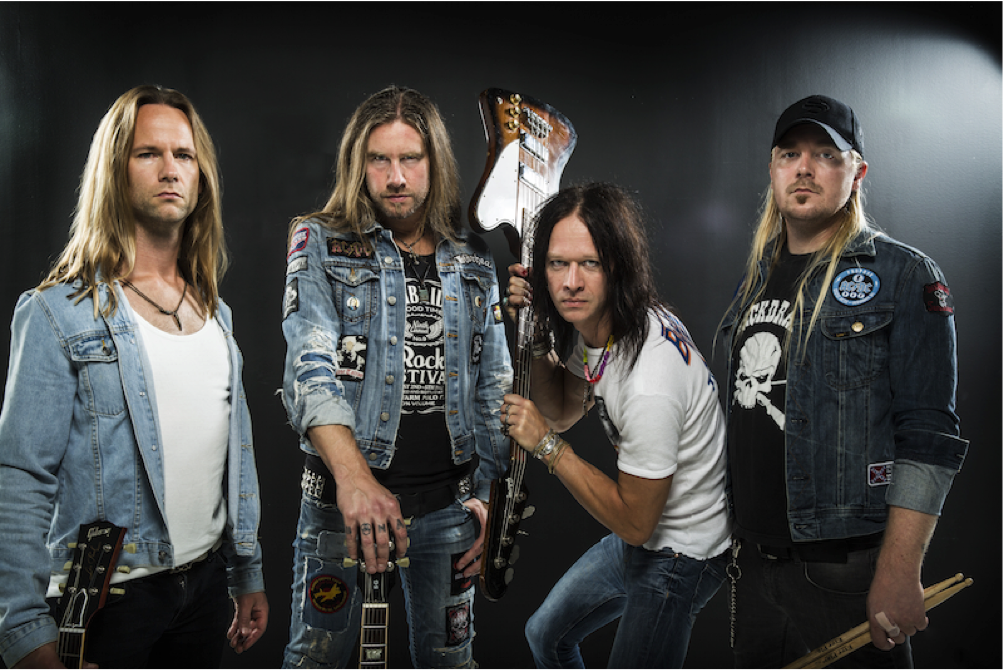 The thrust of this track is that the antagonist should not let his life slip-away. The protagonist's nagging is accomplished alongside  a tight-riff. Obviously, the voice of Pontus Snibb is hairier, punchier and grumblier than Burke Shelley – yet this song is muscular and undeniably lean (like a Budgie number.)  The powerstroke is that this is fundamentally meaty.
Our 'Rock 'N' Roll Lifestyle' is basically only three things: Words, work and worry.
But, apparently, BONAFIDE have a rich party lifestyle that reaches into every night and fingers into every day. This song is so the AC/DC that it would be hard to tell them apart.
It has a simple, cheerful chorus and uncomplicated riffs. Plus, a sparkling solo that blazes like the sun through the early morning blinds… How can you not love this?
'Who Am I to Judge' struts, like a pair of prosti-boots on the boulevard. A special mention must go to the 'engine room' for this number – Martin's bass is wonderfully expressive and the drum-work by Niklas is glorious.
'The Game' is far more intriguing than the other songs on this thrilling album. Smoky and rich, it heaves up a "flag of convenience" – posing as a simple rock 'n' roll thumper.
But, actually,  this is far more nebulous than that… it's a lighter ballad. With some  interesting chord progressions and a clever musical direction. The inspired and acidic solo lights up the second half – and the harmonious vocals add class to this hypnotic and rather artistic number.
The album concludes with 'This One's for You' – a gravel-throated chortler – this is all about the gratitude that the band have for us – the audience. Gee … thanks guys!
All-in-all – this is raw and joy-filled hard rock with accomplished guitar-work and jaw-droppingly goosey vocals. The riffs are so cranked-up and so compulsive that they could cause a serious obsession.
'Denim Devils' is out on 2nd February 2015, via Off Yer Rocks Recordings.