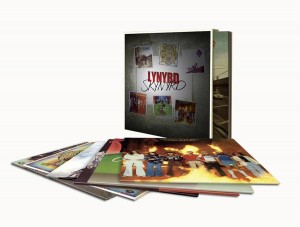 What can you say about an iconic band like Lynryd Skynyrd that hasn't been said before? A band who are the essence  of Southern Rock, and arguably the Classic Rock Genre. Skynyrd's story is one that will forever be passed down in rock legend- and have decided to captured their glory days in this box set. Famously the Jacksonville icons were involved in a shocking plane crash which sadly killed most of the original Skynyrd members, as well as the band's road crew. This six-disc set is their recording as a band prior to the accident. Going through it  disc-by-disc here is a run down of all the albums included in the set.
(Pronounced 'Lĕh-'nérd 'Skin-'nérd) (1973)
Before we leap in to the music: I have to say it is great to hold solid vinyl in my hands again. The smell, the feel, the rich sound coming from the speakers. Vinyl is great but you can't play them in your car. Due to the mobility of CDs and MP3's, vinyl has been almost forgotten about. This, the original album telling us how to pronounce the band's name is a straight-up classic.
The band's first album including their debut single 'Gimme Three Steps' and the epic 'Free Bird' which launched the band in to superstardom.  Tracks like 'Simple Man' and 'Tuesday Gone' show why Lynyrd Skynryd are still as spopular today as they were back in 1973.

Second Helping (1974)
From the title you get a feel of the band's sense of humour. This album starts with the universally recognised (if not slightly over played) 'Sweet Home Alabama' setting the tone for what is considered their most memorable album exploring their signature southern sound. This is also one of their more humorous albums, seen in tracks like 'Workin' for MCA' beating the Sex Pistols to the punch in a song about their record label.
Nuthin' Fancy (1975)
First Skynyrd album to get in to the US top 10 – even though this record didn't have any singles to support it! Although there are a few classic tracks such 'Whiskey Rock- a Roller' and 'Railroad Song', this album is what it says in the title: 'Nuthin' Fancy'. After the previous classic albums this could be classed as the 'more of the same' album. Most noticeable thing being this album is heavier than their previous records, showing true progression for the classic rockers.
Give Me Back My Bullets (1976)
No matter how awesome a well-accomplished band is, or how long they have been around: there is always that one 'written on tour' record. 'Give Me Back My Bullets' is Skynyrd's. Since the release of their first album, the band toured constantly, which really shows here. A highlight being the last track 'All I Can Do Is Write About It' which is a song commenting on the political situation in the United States at the time. Sometimes seen as 'Southern Pride' song with the lyric 'You can take the boy out of Dixieland, buy you can't take the Dixie out the boy'. Worth a listen for Skynyrd fans, but no classic.
One More From The Road (1976)
The band's first double live-album, and only live album from the 'classic' era Skynyrd.  Like most live albums we have the big hitters (Sweet Home Alabama) the 'cult' album tracks (Whisky Rock-a- roller) and even the odd cover version (in this case Jimmie Rodgers' ' T for Texas'. A great addition to the collection of 'Skinny' fans and for fans of live rock music in general. This album boasts a 13:30 version of the classic 'Freebird' – Which is worth listening to this disc  for alone.
Street Survivors (1977)
Three days after this album was released:  frontman and songwriter Ronnie Van Zant,  founding guitarist Allen Collins and new guitarist Steve Gaines tragically died in a plane crash. This being the last recording of the 'original' Lynard Skynyrd it received great success peaking at number five in the charts and spawning legendary singles 'That Smell' – which isn't about a sunday roast. As well as'What's Your Name' which tells a story of their roadies getting in to a fight. It's a real shame that this showed a welcome return to form for the band so near the fatal accident that tore them apart. In terms of their music, at least you can say they went out on a high.
Lynyrd Skynyrd – Vinyl Box Set 1973-1977 is out now via Universal.