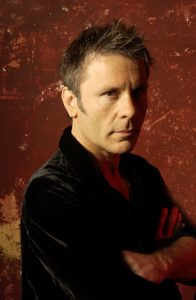 Bruce Dickinson is certainly a man of many talents, so much so that one has to wonder how he finds the time for all his successful ventures. By turns an airline pilot, international fencing competitor, broadcaster, screenwriter and brewer of fine ales. Oh, and not to mention the lead singer in Iron Maiden, one of the most successful heavy metal acts of all time with over 100 million album sales to their name. And yet, for all his innumerable successes, his solo career is the one area where arguably he hasn't quite reached the heights he's achieved (quite literally in his career as an aviator) in other pursuits. This new collection gives fans the opportunity to revisit all six solo albums released between 1990 and 2005 at a time when Maiden's stock is arguably at an all-time high.
The first solo effort, 'Tattooed Millionaire' was released at a turning point rock and metal history when many of the big acts of the 80s were about to be blown out of the water by the raw, angst-ridden sound of Seattle. Maiden had just released 'No Prayer for the Dying', which, despite featuring the band's sole UK number 1 single to date, received a mixed response from critics and fans alike, and Dickinson was showing the early signs of itchy feet that would ultimately lead to him leaving the group. The debut solo outing was, in fact, a move away from metal to a more traditional bluesy hard rock, going sufficiently mainstream to include an interesting version of Mott the Hoople's classic 'All the Young Dudes'. The title track is a solid hard rock denouement of the LA rock scene of the time; the pampered, poodle-haired glam rockers that a year or two later found themselves almost out of work overnight when grunge broke. Much like all the subsequent solo efforts, Bruce explored avenues that were not open to him with Maiden; with lyrics that are often more personal and introspective, giving his voice a greater freedom of expression.
By the mid-90s, Dickinson had left Maiden behind to focus on his solo career. Whilst they struggled on at a time when classic metal was deeply unfashionable, 1994's 'Balls to Picasso' was a step towards the alternative scene of the time. While still retaining an element of classic metal, there are definite nods to Soundgarden and Alice in Chains. The second track, 'Hell no' represents a huge departure from the inimitable Maiden gallop with its moody, downtuned loud/quiet/loud dynamic and some husky, whispered passages, but, in the louder parts, Dickinson unleashing the famous air raid siren voice. The resulting blend of old and new works remarkably well, and the album still sounds fresh and vibrant today. The follow up in 1996, 'Skunkworks' represents an almost total departure from traditional metal and attempts a grungy, alternative sound with more patchy results.
Only a year later, 'Accident of Birth' saw Dickinson return to his metal roots in triumphant style. Having recruited former Maiden bandmate Adrian Smith, the result is a storming metal masterclass that surpasses anything Iron Maiden released in the 90s, with or without Dickinson in the line-up. Probably the heaviest album he'd been involved into that point, it burns with a furious energy and sounds very much like a man finding his place and returning to the genre he loves. There's more than aggression here, though; there's light and shade with some folky and trippy elements thrown into the marauding metal melting pot.
Both 'The Chemical Wedding' and 'Tyranny of Souls' retain a similarly high quality and further explore areas that wouldn't work with Maiden. 'Jerusalem' is a masterful retelling of Blake's famous poem executed in a folky, medieval style, whilst 'King in Crimson' ventures into the dark waters of Doom Metal in its crushing malevolence. The albums contained within this collection are all different in their own way and represent the sound of a man reaching out and expressing himself in different ways. And, like so many of Dickinson's achievement in music and beyond, you can't help but admire the results. They may not have sold in the vast amounts that his albums with Maiden do, but these varied and often thrilling albums deserve to be heard again. And if you're a Maiden fan and haven't already heard these albums, well, what are you waiting for?