British alt-grunge band Bush enjoyed success in the 90s until their split in 2002. Their first two albums 'Sixteen Stone' and 'Razorblade Suitcase', which housed great songs such as 'Glycerine', 'Swallowed' and 'Cold Contagious', brought forward the real fuzzy toned, bass heavy grunge vibe to Britain. Even their latest release of 'Golden State' found a way of showing that simple and catchy melodies and lyrics can be all you need for a successful album.
But is this still the case now? Can you awaken the dusty corpse that once was with the introduction of Chris Traynor and Corey Britz, who replace Nigel Pulsford and Dave Parsons, I find myself wondering if this change of line-up could become an issue for a band that are trying to reinvent themselves back into an industry that will be demanding more of the classic Bush they remember from the previous albums.
I myself was a huge fan of Bush and was disappointed when they broke up in 2002. But instead of being excited about the new album. I am worried. With being such a fan, I have high hopes, but also high expectations which I do not feel can be fulfilled. It's similar to when you see a cartoon you watched as a kid and watch it again. It's just crap! How did we used to watch that and enjoy it?
When putting this album on, the first thing that you will notice is that Rossdale's ruff, coarse and somewhat haunting vocals are still cutting through the signature bass lines that Bush are famously remembered for within the grunge community. Although there is a slight difference to that nostalgic sound you first hear, there are also hints of a modern twist within the music. Some electronic sounds appear to freshen up the overall dated feel of the music.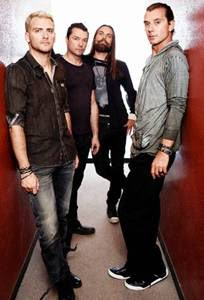 The guitar sound is similar to the sound they had in the 'Golden State' album rather than the stripped back and rough around the edges sound they showed us in 'Sixteen Stone' and 'Razorblade Suitcase'. The drums are very basic, helping to ease the songs from the beginning to the end with not too much creativity in-between.
It doesn't seem like they have pushed themselves or any boundaries in the album, it's not necessarily a bad thing as they clearly have their own style and want to keep to that, but I myself find it somewhat disappointing. There is no mistake that what we are listening to are Bush, their individuality has shone through well and I think the new members have done well to adapt to this sound, but it's not enough. I am also disappointed in how I played the last track expecting to be given a real nice close to the album, but instead was left wondering if they meant to rip off 'These Days' by Alien Ant Farm deliberately or not. I'm sure they didn't, but it sure as hell sounds pretty similar in places.
Tracks like 'Just Like My Other Sins', 'The Gift' and 'Dangerous Love' really boast the bands signature bass by pushing through a real over powering fuzzy rhythm sound that is almost impossible to not fall in love with. The album also boasts more rocky songs such as 'Loneliness is a killer' and 'Speeding Through the Broken Lights'.
My favourite song on this album has to be track 4 'The Gift'. It reminds me of everything that Bush represented to me when growing up. The rough guitar sounds, the constant bass guitar riff acting as the backbone of the song with Rossdale's unmistakable coarse voice giving you haunting vocal melodies you can't help but sing-along to.
There are a few tracks in the album that stick out as album fillers such as 'Broken in Paradise' and 'Surrender', but overall it's not a bad album. The problem is that it's not a great album either, it's just good.
I did enjoy listening to this album, it did give me a real nostalgic feel, but will it be staying on my very limited IPod? Probably not for long. It really shows how long ago the 'Razorblade Suitcase' album was. So much in fact that after listening to this album, I felt the need to listen to it, and that really highlighted that Bush seem to have lost the core of what they used to be. Not that it's always a bad thing. Think about how many times Incubus for example have changed their sound on several occasions, and they still have most of the same fans. I guess what I am trying to say is that this album does work, it does have some real quality and it is a great album to have in your collection, but on a personal level I miss the old style of the band.
2014 marks the 20th anniversary of Bush's debut album 'Sixteen Stone', which hit No. 4 on The Billboard 200 and included the No. 1 hits 'Comedown', 'Glycerine' and 'Machinehead', as well as fan favorites 'Everything Zen' and 'Little Things'.