Absolute kings Machine Head release their eighth studio album, 'Bloodstone & Diamonds'. Produced by Robb Flynn and Juan Urteaga, who has also produced Testament and Vile. Mixed by Colin Richardson, who has worked with Carcass, Fear Factory, Slipknot, Behemoth, and Devildriver. Additional tracking, editing and mixing was completed with heavy metal legend Andy Sneap and Steve Lagudi.
Before you start listening this album, may I first suggest this album is best listened to through a decent pair of headphones, or just plain loudly. That is if you want to hear the full glory of all the instruments and Robb Flynn's rugged vocals.
The album kicks off with the first released single 'Now We Die' which you should by now be exstreamly familiar with [click play at the video below, listen whilst you read]. A feature of this track is the added violins, they make this track sound really modern, but I also feel this track retains some of that classic grunge element that often gets played at rock clubs around the country. This track could easily sit besides 'Down With The Sickness' and 'Bodies' on a rock club DJs set-list.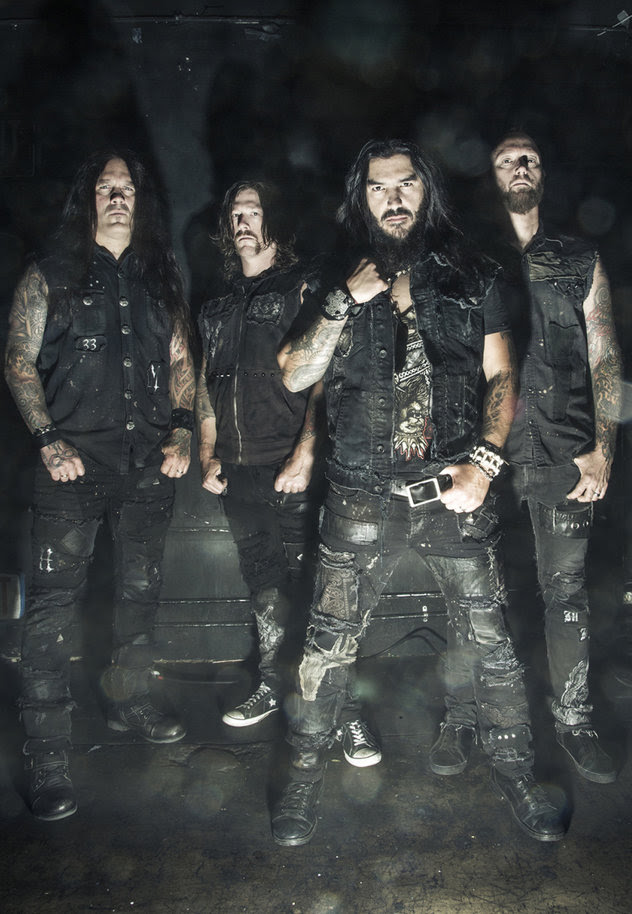 Ashes to ashes




The ocean crashes




Louder and louder it cries




Over and over




The sands wash over




Facing, embracing the tides




And with this now we die
Second track 'Killers & Kings', this track literately kicks in, with a real beefy sounding kick-drum, killer riffs flourish throughout.
'Ghosts Will Haunt My Bones' is another that starts strong, with them rugged sounding guitars. This song has many layers – I love a song that can take your on a journey. May I again re-suggest at this time, this album is best listened to loud, or through a decent pair of headphones. I have tried to listen to this album as background music, but it just doesn't work for me. Carrying on with a similar direction 'Night of Long Knives' also has many layers.
Now 'Sail Intro The Black' starts with something your would expect to hear from a Ghost show. The hallowed ghostly voice sings "We Sail into the Black", like a chamber ghost choir. The piano starts, the darkness increases. An emotional dark track. You certainly wouldn't expect to hear this one played at a rock club, however I can imagine it is pretty magical at a Live Show (providing they bring all instruments used). The bridge of this track, is an un-exspected one, as it changes the structure, making it sound more like Machine Head, rather then a Ghost Choir.
'Beneath The Silt' starts really sludgy, it's a real nice sludgyness though. Effects on the vocals, could suggest that this track is taking a bit of a mainstream route, but it works really well. This is a really sexy track, if you don't agree, then ill just go sit on my own and listen to it!… even if it is a song about drowning.
'In Comes The Flood' starts with synth and some patriotic wording towards America. I was going to say BMTH reminiscent… and then I read Robb Flynns comment below saying that BMTH keyboardist Jordan Fish plays on this track, so there you go!
Echoing vocals 'Damage Inside' delves into your soul. This track is an emotional journey through loss, im sure this is one of them songs people will relate too on a personal level. Whatever the reason, this is one of those track, that people may find a real connection with. That's if they listen to it properly.
Now we get to the spoken word section of the album, 'Imaginal Cells'. I feel like comparing it to the video for Metallica's 'One', but that's just because you don't get that much spoke words in Metal (apart from Scott Ian of Anthrax). It will be interesting to see a further dissection of this spoken word / instrumental track from the band.
Sometimes when you really like a band you are scared of a new release because you never know if it's going to be as good as their past albums. This album dose not disappoint at all, it's a step-up, a progression whilst keeping with the times. I think we will be seeing Machine Head, headline some UK festivals in the years to come. Despite them saying they won't be at any festivals, they would obviously do a headline spot. As a massive Machine Head fan, I am not disappointed with this album at all. I never expected them to re-create 'The Blackening' or 'Unto the Locust'. Unlike bands such as Metallica, that I would expect something similar to their classics, when they bring out a new album. Machine Head have come back with their eighth album just in time. 'Bloodstone & Diamonds' will be one of those rare new albums that I will keep on my personal play-list for a long time, and I bloody well can't wait to see them live next month!
Machine Head 'Bloodstone & Diamonds' is out 10 November 2014 via Nuclear Blast Entertainment.
[divider]
Who better to tell you about the new album than frontman and bandleader, Robb Flynn…
"I cannot even begin to tell you how proud we are of this album," enthuses Robb. "It's been a heck of a ride. It looked like it might not ever happen again at one point, but man, this album is a milestone for us. Without getting too philosophical on ya, bloodstone and diamonds represent two of the hardest materials on earth. It is also a lyric from the opening track of the album, 'Now We Die'. In many cultures the bloodstone has been used as an amulet to protect against evil and is the symbol of justice. Diamonds are the hardest natural material on earth (which is how we feel about our music), and it also represents the diamond logo I drew 22 years ago (in my wife's apartment on Dover Street in Oakland) that has become the symbol for the band."

Adds Flynn: "10 songs, an interlude, and an instrumental with an audio collage of spoken word snippets (think 'Real Eyes, Realize, Real Lies') by Dr Bruce Lipton and Steve Bhaerman, taken from their (incredibly inspiring) audiobook, Spontaneous Evolution."

"Guest musicians include two different string quartets featuring the original Quartet Rouge that appeared on our last album, 'Unto The Locust', and a new all-male quartet which we featured on the song 'In Comes The Flood'. String arrangements for two of the songs 'Now We Die' and 'Sail Into The Black' came courtesy of myself and Rhys Fulber, who has worked with everyone from Sarah McLachlan, to FEAR FACTORY, and the string arrangement for 'In Comes The Flood' came courtesy of myself and ex-WORSHIP and current-BRING ME THE HORIZON keyboardist Jordan Fish, who is a producer in his own right."

"We worked with several artists to complete the 28 page (!) 'standard' CD booklet, as well as the 48 page (!) hardcover leather-bound mediabook that will serve as the special edition, including Rafal Wechterowicz, Marcelo Vasco, and long-time MACHINE HEAD art-collaborator Strephon Taylor. The theme was to have both CD and hardcover mediabook look like an old Alchemy book from the 1800's, with weathered edges, sepia toned pages, and magic / masonic / alchemy themed woodcarvings throughout."
The band tour the UK in December in support of 'Bloodstone & Diamonds'. Tickets are on sale now at www.livenation.co.uk.

'Bloodstone & Diamonds' Track Listing:
1. Now We Die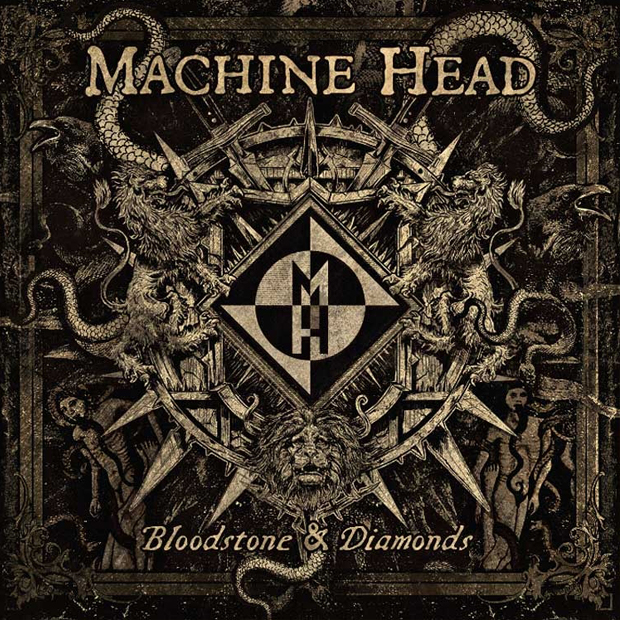 2. Killers & Kings
3. Ghosts Will Haunt My Bones
4. Night Of Long Knives
5. Sail Into The Black
6. Eyes Of The Dead
7. Beneath The Silt
8. In Comes The Flood
9. Damage Inside
10. Game Over
11. Imaginal Cells (instrumental)
12. Take Me Through The Fire