August 5th isn't a date that will stick in your memory unless it is your birthday, but it may stick in your memory if you love modern death metal. For this is the day Carnifex release their full length album Slow Death.
Slow Death by track:
'Dark Heart Ceremony' – The opening track simply broods and festers literally exploding with every ounce of malice contained within its dark heart. Malignant and vile the gruff low toned snarls ignite with vocal evil.
'Slow Death' – A force to be reckoned with as the demonic slabs of death become apparent. It is so evil even the devil is scared of it. Stirring up a grisly encounter of riveting strikes it will draw blood on listening.
'Drown me in Blood' – Would there be a better way to go I ask myself? Perhaps not! The band engage in some rather sinister infected hate as the core of its strenuous rhythms pulverize the bones.
'Pale Ghost' – This track holds a rather ingenious opening that sounds very unfamiliar to death metal but we are talking modern death metal here after all. The keyboard sparks a sinister encounter while the guitars are literally screaming for mercy.
'Black Candles Burning' – The deeper into this album you go the more you feel you are facing a battle of wills as the events take place. Listening to this you realise that you must exorcise the demon within you.
'Six Feet Closer to Hell' – They are not wrong either. As hell approaches you realise you must succumb to its extreme pull as the magnetic force draws you closer into its spine-tingling world of death.
'Necrotoxic' – Is as toxic as it gets – the unmerciful gallop of festering malignance is overwhelming. Brooding with heaps of irritable groove and badass riffery, snuffing out your worthless existence in one fell swoop.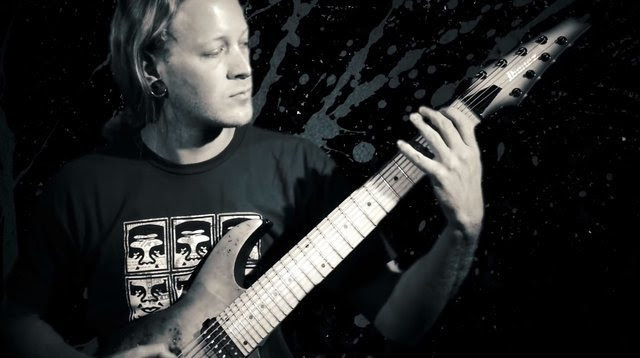 'Life Fades to a Funeral' – This sees a calmer episode appear with sumptuous sophistication and deftly carved strings that lighten the mood somewhat. Its melancholic approach outlines the band's creative flair for diversity in the most subtle way possible.
'Countess of the Crescent Moon' – This is another subtle track that is until it manifests from around a corner and plunges the listener into their worst nightmare ever.
'Servants to the Horde' – The drama unfolds further with a sinister edge that revels in its thick textures and emotional endeavours. The battle is not over – in comparison an exorcism would be easier to go through.