A thunderous rumble slowly fades in as Coltsblood's latest offering announces its presence. The title track of the album is a lumbering work of disgustingly heavy doom metal that builds over a whopping thirteen minutes, slowly layering abrasive guitar effects and distorted bass chords so aggressive they border on being the human discovery of the theoretical brown note. The entire piece is accentuated with moments of black metal, the juxtaposition of time signatures and speed of which stop the track from growing stale. John McNulty's low, gravelly growling vocals are used as an extra instrument in the band's repertoire as opposed to providing discernible melodies for crowd interaction. Sing a long music, this is not.
As 'Mortal Wound' commences, the Liverpool born triumvirate explore a different side of their genre, offering a more intense and faster paced work between verses; Jemma McNulty's six string proficiency brings the whole thing alive, particularly with – once again – a slow build of layering effects and atonal harmonic inflections, while Jay Plested's up-tempo double bass work comes as a shock given what has been previously offered up.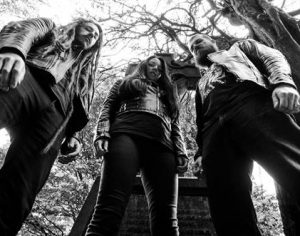 The comparatively short form songs seem to be the band's forte as both 'Mortal Wounds' and the album's mid-point 'The Legend of Abhartach' are more instantaneous and refined, and ought to be utilised more in the band's future work. However, this does not to diminish the enjoyment the rest of the album, particularly the closing song; 'The Final Winter'.
Clean guitar strokes drowning in reverb give a curiously upbeat feeling as the album's end begins, so as a listener, and much to Coltsblood's credit, it comes as such a stark emotional contrast when the growling distortion of the band playing in full kicks in. There's a subtle addition of a choir wailing as well as a synthesized church organ in the background of this song that rounds out the whole affair, bringing a hellishly ethereal tone.
If you're a fan of doom metal, this album has a lot to offer – some truly brilliant performances from three very talented musicians, and a starkly apparent dedication to their craft. It isn't breaking the mould of the genre, and with an album like this there are always going to be – sadly – comparisons to Sunn O))); a band that no one would wish to compete with, but keep an eye on Coltsblood, as their potential shines through any flaws able to be thrown their way.