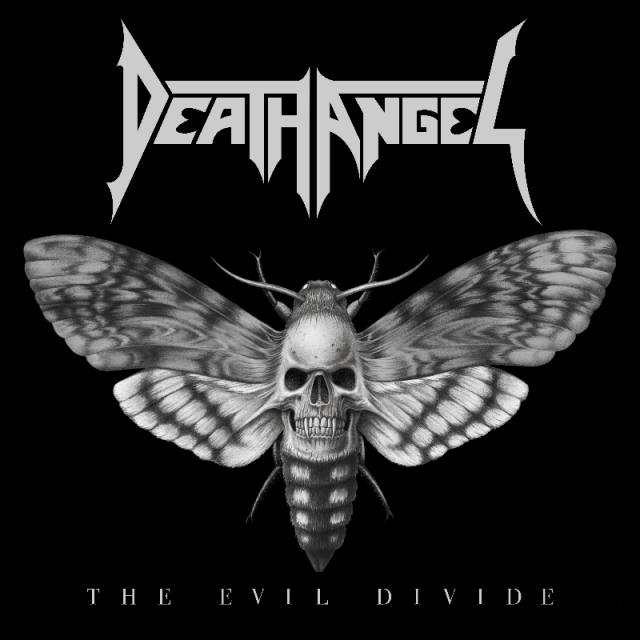 Not every band can live up to a legacy but every once in a while a group exceeds expectations by pushing boundaries in a genre they've helped create. Among the youngest bands ever to storm the metal genre, Death Angel has come to be known as one of the most influential bands to emerge from the thriving Bay Area Thrash Metal Scene in the early 1980s. An era when one could catch Cliff Burton (Metallica) at the front of the stage at Ruthie's Inn banging his head to Death Angel's inventive style, and speedy, complex arrangements!
[divider]
With a very ominous start Death Angel gets underway with a fast array of pulverising thrash and immediately the feel of wanting to shake your head begins! 'The Moth' makes its mark with incredible and compelling urgency that is drenched in a quickening madness courtesy of some superb frets and equally compelling blast beats. 'Cause for Alarm' is edgy and confrontational in a bid to put forth its mighty stance and further gripping as it progresses. Its raw virulence in powerful as well as memorable. 'Lost' takes on a seriously slower pace for thrash and uncompromising as it explores its diverse side, but none the less scorched with imaginative riffs. 'Father of Lies' Puts a quickening spurt on and launches into a tirade of emotional madness and back to its thrash roots. Its potent force offers superb vocal range and a melodically charged expression that quickly bows to a slower amble of complex riffs, before charging off into the sunset full blast! 'Hell to Pay' turns malignant from the off and careers into a bludgeoning calamity of blast beats that takes your breath away! 'It can't be this' holds a sinister opening that supports extreme excitement for the listener as the heartfelt lyrics protrude from a predatory and intense imagination. 'Hatred United, united Hate' is a stabbing of beats that quickly turns into an orgasmic melee of fastening brutalism! The turmoil of which can be felt far and wide – the chemistry of the band is totally cemented together with this track alone! 'Breakaway'
It's rampageous and callous as it rips through the speakers and offers a rowdy momentum leaving a trail of dust behind it. The pressure is ever growing and simply explodes into total craziness. 'The Electric Cell' is another predatory track that stalks with intent to burn the ear drums as it is charged with dramatic volatility. All arousing and compelling it rumbles provocatively and releases the beast! 'Let the pieces fall' I can't believe this is the final track of the album – tempus fugit as they say! Smouldering with pulsating tendencies, the guitars are simply screaming a thrash language in a tongue that spells total thrash-dom! Winging its way toward the aural it's forthright and virulent with emotive forces that work well for the band.
This has been one superb ride from start to finish from Death Angel a flawless album that grows in strength and presence!