The Canadian grindcore filth machine FUCK THE FACTS are back. Since their last album on Relapse Records (Die Miserable 2011) they have been hard at work with their DIY ethos, with a string of self release EP's and a split release with FistFuck. It's been a bit of a while since their last full album but within one second you can tell that they are as pissed off and raging as ever.
'Desire Will Rot' comes roaring out of the speakers like a blurry of noise, scratchy and itching away inside your ear drum. It's a suitable intro as it gives way suddenly to a furious dirty grind not too dissimilar to Brutal Truth and Pig Destroyer, Book Burner era . 'Everywhere Yet Nowhere' sets the tone for what is to follow. It's an assault of the sense, harsh brash technical grindcore that is repeatedly trying to pummel you into submission. But to simply dismiss the rest of the album as more of the same is rather foolish, as there is more than meets the ear (which we will get to in a bit).
The production is near perfect for the music. Had it been overly polished and bombastic, the album would have lost much of its edge. Had the album sounded too raw in comparison, it would sound like a washy mess with the little subtleties that sweep in almost subliminally being lost. Instead we get a sound which strides between the two perfectly. Raw enough to give a genuine sense of danger with an unhinged quality and also polished enough for you to make sense of what is being played. The production is a step up from the previous releases make no doubt, but still has the vibe of a band going ballistic in their garage.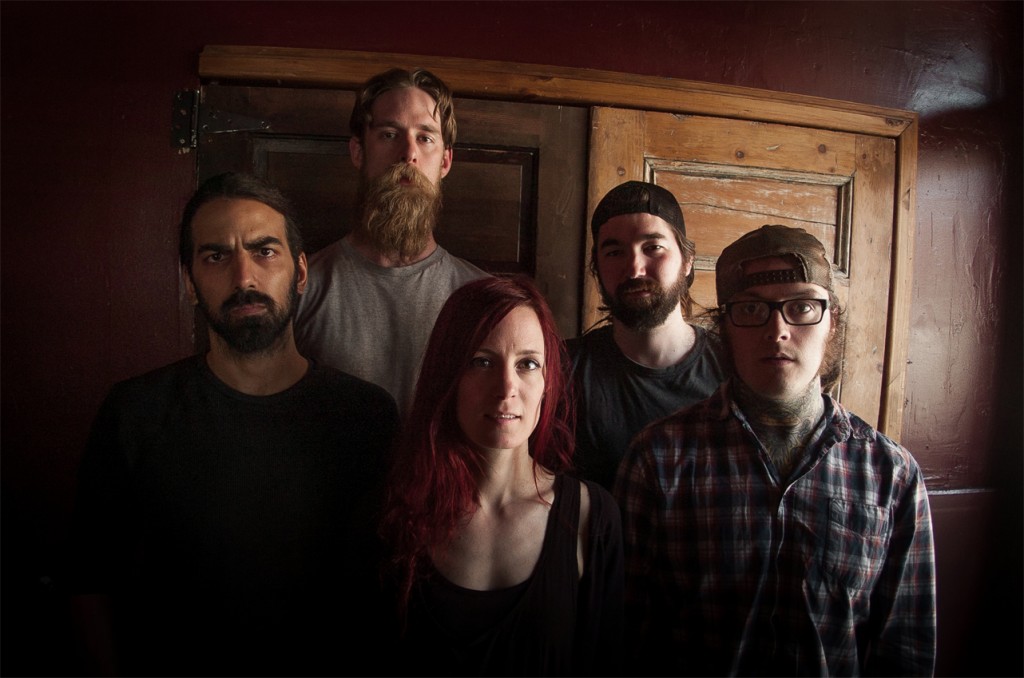 At first there are moments in Desire Will Rot that may appear overwhelming and to the untrained ear just a disgusting blast (which is awesome by the way). However on repeat listens the album gives you more and more poisoned fruit to devour. There are the moments where the band drop the pace and hit their stride with a groove, breaking up the barraging blastbeats, but these moments do not often last long therefore never de-railing the manic energy. It is though the Botch inspired discordance that truly rears its head on repeat listens, giving the music a great depth not apparent immediately. Add to this the classic sounding solo's that make sporadic appearances and you get an album that is well worth revisiting.
The album though does not finish how it started and proceeded. On the track 'False Hope', the album shifts in tone and pace. Halfway into the song the grind breaks down, feedback then reigns before giving way to pure doom metal. Big chords slowly drive the song home while the fuzz of the bass rumbles underneath. It may seem odd at first considering all before but it all occurs effortless in the song, ushering us to the end. 'Circles' is a soundscape, purely a mood settler before the sludge doom stylings of 'Nothing Changes' brings us to a close. It's actually a very fitting end to Desire Will Rot and makes the album a full body rather than just bits and pieces slammed together.
While there is much to rave about and enjoy, the album does suffer from some inconsistency issues. There are moments that are completely devastating with whirls of creativity within the brutality. On the flip side though there are riffs that sound thin and generic in comparison. This though does highlight the moments where you are simply blown away. FUCK THS FACTS have ultimately released a fine album, one that will appease fans of grindcore and general musical filth.
Desire Will Rot is released through Noise Revolution on August 25th of August.
For Fans Of: Brutal Truth, Pig Destroyer, Converge and Misery Index.