When Ghost first began to make headlines back in 2010 with their debut album, Opus Eponymous, there was something genuinely exciting about the band. Not only was their ability to stay anonymous in an internet age unique, but the music they played was different to a lot of what was going on.  Their combination of doom and pop had a real atmosphere to it and they quickly begun to receive plaudits. It was a shame then when follow up Infestissumam fell a bit flat, lacking the punch of their debut album.
Back now with Meliora and their third Papa Emiretus, Ghost will be looking to re-establish themselves as one of the most interesting bands in the scene. Which to a certain extent they do. Never a heavy metal band, Meliora feels even further from that genre than their earlier releases. In fact, on tracks like 'He Is' they have more in common with Pink Floyd than they do Slayer. It helps then that these guys have a wonderful ear for a melody and on songs like 'Majesty' they will wheedle their way into your head and refuse to budge.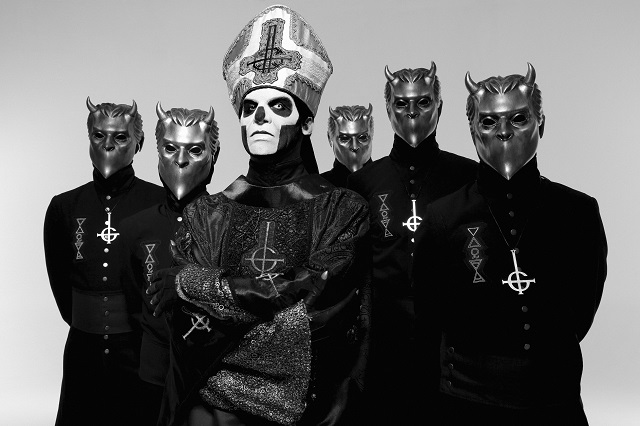 When Ghost do pay more tribute to heavy metal though, it's arguably the most interesting parts of the album.  'From the Pinnacle to the Pit' has some real groove in its guitars while 'Mummy Dust' is the closest this band will come to sounding like Metallica, growled vocals and all. It's obviously not quite that heavy, but there's a real kick to it and it's an ominous sounding track.
Ghost sometimes just feel a bit too clean and produced. They have this big, over the top and atmospheric sound that really lacks a little bit of grit to it. These songs are great for singing along to, but at times the pop just comes out more than the rock. Something like 'Absolution' tries it's best to feel ominous and foreboding, but the second it's airy chorus kicks in that is all lost.
Despite this, Ghost are still a very good band. When you can write songs that are this much fun to listen to, then you have to be doing something right. They write pop music better than most of the people earning millions of pounds to do so and that alone deserves credit. If however, you've just seen the imagery and are expecting a heavy band then prepare to be shocked. These guys are about as close to mainstream as any band displaying quite this much satanic imagery are ever going to be and if this album is any suggestion, they are gunning to keep going down that path for as long as they can.
Listen to the full album stream here: