So, the drugs kick in like this: I'm picturing ZZ Top's Billy Gibbons trucking on down, practising laying out p-funk chords on his way to audition for James Brown only to be stopped in his tracks by Animal (The Muppets or Motorhead's version, you take your pick) who calls double-time on his cowbell whereupon ragged guitars slash away mercilessly. The sound gets even beefier on a monster chorus with a hook line delivered like Steve Tyler in his prime when singer/guitarist Nicke Borg gives the command to "Shake that ass!" This here is 'Thirt3en Or Nothing', the first single off Backyard Babies' return to action with new album Four By Four, it is most definitely doing the business, and I am most assuredly liking it.
'I'm On My Way To Save Your Rock 'n' Roll' they declare and continue to make good on their promise, keeping their foot on the pedal with all the playful anarchy of the original Detroit-based Alice Cooper band or even The Buzzcocks, with a scuzzy little guitar solo thrown in for good measure.
"Rock," Babies' Guitarist Dregen has declared recently, "is not dead." So put that in your pipe and smoke it, Gene Simmons as they ease off a little during the siren-wailing rock of 'White Light District' then have us wait at Abbey Road's celebrated zebra crossing as the piano comes out for 'Bloody Tears' with its Lennon-nasal vocal inflections over a rewrite of 'All The Young Dudes' as AOR power ballad that hits the mark most unexpectedly.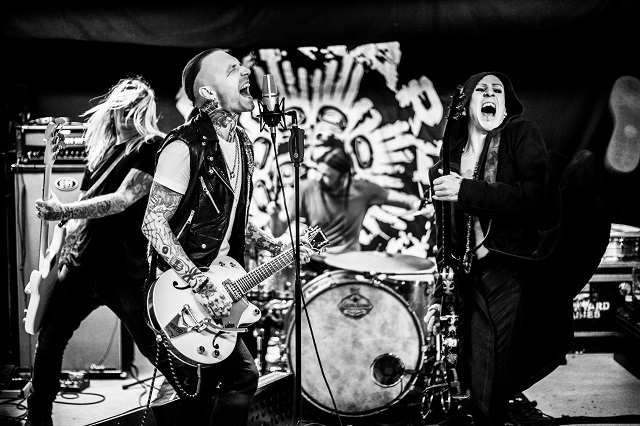 Borg, Dregen, drummer Peder Carlsson and bass player Johan Blomquist were all born in the same year in Nässjö, Southern Sweden. They got off on The New York Dolls as much as they did The Damned, and  armed with tattoos and an attitude announced themselves a band with the Something To Swallow EP then threw up across the world for the next twenty years, delivering gold album hits like Stockholm Syndrome for good measure before calling time. Batteries recharged they're back, wearing as many 70s glam influences as punk badges of honour, but then as every good boy scout knows true glam rock was more about bricklayers in drag  playing guitar than androgynous sweet things pouting profusely. Case in point 'Wasted Years' that's like Slade and The Sweet having a rough and tumble so they can decide which one of them's going to mug some old dear down the street, musically speaking; the lyrics being a different matter, governor. 'Never Finish Anything' is also one part bovver-boy era Slade with a slice of punk and a sweet chorus on the side as they exclaim: "No solution, no problem!"
The squiggly riff and trashy rhythm power chords that mesh through 'Piracy' compete with a solid lyrical hook, and shouts a plenty thrown in before briefly breaking down into a bluesy Zeppelin style riff, only for a quick spurt of solo guitar to bring things back at twice the speed and even more shouting over the top. This is a jubilant, defiant demonstration of grown men acting like youngsters in the best possible way.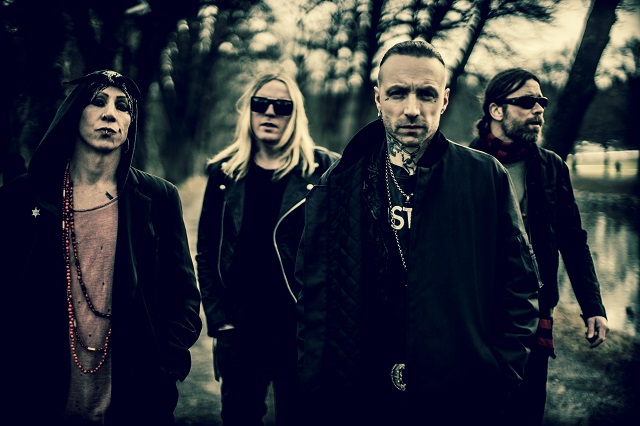 There's that Lennon nasal quality again on 'Mirrors (Shall Be Broken)' that makes you think of Liam Gallagher landing lucky and getting to sing a punk cowboy song with added Cheap Trick harmonies. Then, with 'Walls' they bring the whole house down. Across a weary blues bass line an acoustic strums loosely, spewed over by electrics. It veers from The Cure doing a vamp on The Bay City Rollers' 'Shangalang' (seriously) before the madness of the night draws in completely for a Hammer Horror schlock soundtrack as Borg screams out "The walls can't talk to me." It continues to pummel like early Sabbath, an acoustic inflection but a minor reprise as organ and mellotron rise from the pits to drive us deeper into insanity. And then, it all fades; a stand-up double bass releasing a cluster of bad-assed Mingus-style notes that you, go "Fuck, yeah," to as it ends.
"The whole is greater than the sum of its individual parts" goes that old chestnut, and this is true here. This is not about virtuoso musicians rewriting rock history but four guys who are at the top of their particular game, delivering some raw prime cuts of rock 'n' roll. That there are also enough screams, sirens and sound effects, and probably a few dead bodies thrown down the stairs for added atmosphere and excitement or just for the band to get their own kicks means it works, and works well, with 'Thirt3en Or Nothing' really annoying the neighbours when heard first thing in the morning if that's an added incentive to buy Four By Four.
Like it? Why, I almost went out and got a tattoo!
Backyard Babies Four By Four is out 28th August 2015, via Gain Music.