A haunting melody of some regret stirs from the notes of a keyboard in cinematic overture before being edged out by the crash and ride of a bopping rock charge over which a young voice calls out: "My heart is on fire and I want you to feel the same. No turning back. Here I am. Here we stand – At the 'Point of No Return'!" It recalls Bon Jovi in their breakout heyday but with added pomp. A full-on group chorus follows, a string bending guitar leading the way for each consecutive verse interrupted but once by some morse code riffage and a brief melodic solo. A brazen electric rhythm guitar and stomping drums follow up next shouldering the influence of old Nazareth hit single 'May The Sun' and Zep's even more ancient 'Bron-Y-Aur' in a country bluegrass boogie vein with some Euro folk added before 'A Shot At Redemption' hits its AOR stride, an organ playing in and out of the melody and again some shout-out-loud choruses adding oomph.

And so it goes, with the exception of piano led ballad 'All the Nights' there are nine more tracks in a similar vein. Songs of youthful optimism, attitude and current heartbreak breakdowns, less The Who's intent to "die before I get too old" and more a stoic Scandinavian stance that the time will come to put on the mantle of adult responsibility but it can wait.
Rising phoenix like from the ashes of two other bands, H.E.A.T. were  formed in 2007; gathering fans they toured supporting the likes of Toto, played the Sweden Rock Festival, scored a homeland hit single with Eurovision Song Contest entry '1000 miles' and began releasing albums. When original singer Kenny Leckremo moved to the UK they found a replacement in Swedish Idol winner Erik Grönwall, a new management deal, signed to Gain/Sony Music and landed the Grammy award-winning Tobias Lindell as producer.
'Tearing Down The Walls' is H.E.A.T.'s second album with Grönwall on vocals. A curious combination but it works. With the band's bottom end handled by bass player Jimmy Jay and the aptly named Crash on drums, keyboard player Jona Tee has a classical trained flair and Eric Rivers is an adept guitarist who shreds melodically so that together they create a full sound influenced by AOR hair bands but not dependent on those times. That stated they literally steal Mr Big's 'To Be With You' monster hit as the opening to their title track and the following number, 'Mannequin Show', may come across as a big brash chorded number but its vocal melody and synthesiser line rework – of all things – the Bee Gees' written 'I Am A Woman In Love' that Barbara Streisand had a mega-smash hit with. The sheer audacity of these things can't help but make me think they're intentional and done as part tongue-in-cheek, and that they work quite mindboggling.
However, the band's bows towards mainstream appeal are most evidenced in Grönwall. His Swedish Idol status is evident, resembling a character who might have walked off the set of a soap opera like Emmerdale to take up the role of resident bleached blond in a boy band, and his stage presence (based on limited video footage admittedly) needs some work. As strident as numbers like 'Emergency'and 'Enemy in Me' are, I can't help but picture a choreographed scene of cheesy-grinning dancers prancing about behind him. My initial prejudices here aside, it cannot be denied, the lad has a great set of pipes, and when the band come on with their big sing along choruses they have something pretty unique  going on. Sure audiences will join in when bands do their big hits, but few get the crowds working the way back in the day both Slade and Rod Stewart with The Faces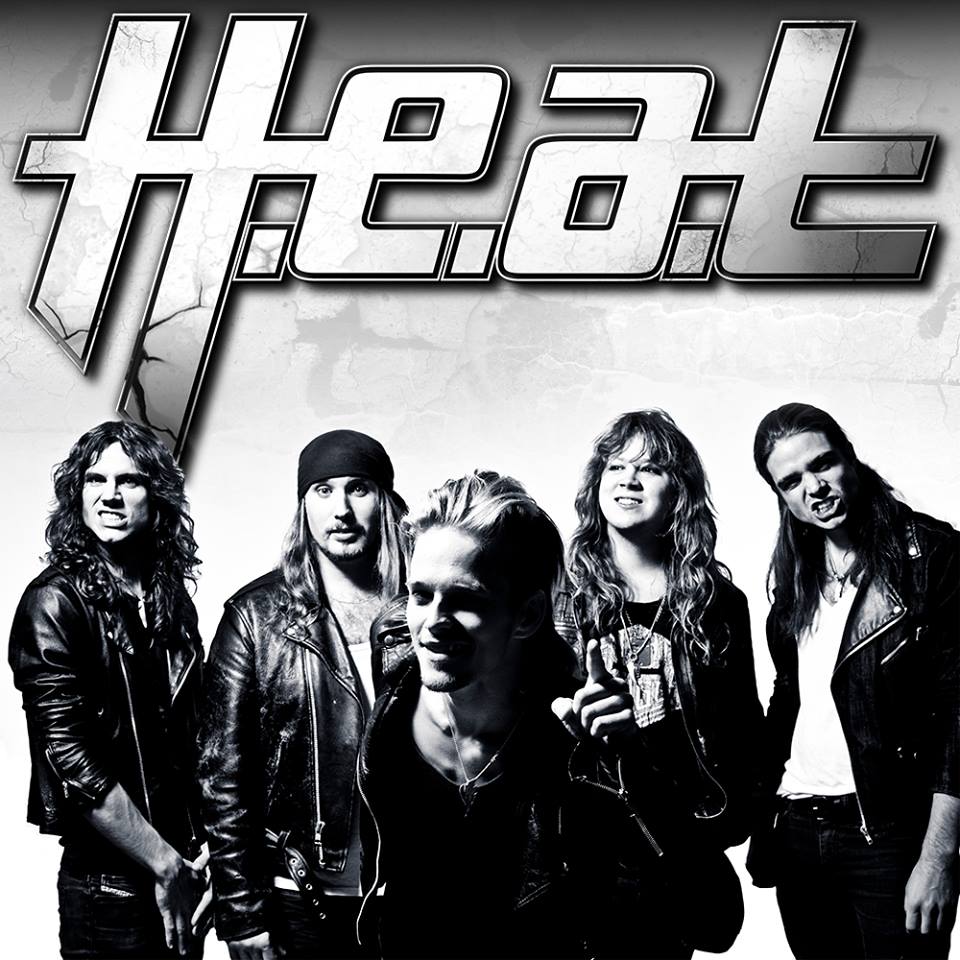 knew how with most nearly every tune, ensuring the kids couldn't get the songs out of their heads and would dip into their local record shop the next day to ensure the songs became hits. Such constant crowd chanting only really goes on at football matches these days, and as former Steeleye Span member and MBE, Martin McCarthy, has noted that is where the modern day version of the communal folk song is best heard, and H.E.A.T. tap into that magnificently, and do it best of all on the album's closing number 'Laughing At Tomorrow' – A pagan drinking song for the modern age that becomes joyously epic.
While Grönwall telling me he likes to masturbate is a little too much information in the raucous wasted youth rocker that is 'Inferno' I'm particularly taken with the lyrical aside in 'Emergency' where the obvious rock 'n' roll trope of curing a heartbreak is tipped on its head when he sings "Won't you tell the doctor – Won't you tell her that I need her now". That positive role image of a female not simply as lover but as a respected professional authority is worth its weight in gold, much as the visual appeal of scantily clad nurses might appeal to my own baser instincts – the song also has some great frothy guitar lines and an elasticised solo from Rivers as Tee holds down the sound down on organ. While the 1984 rooted Whitesnake groove of 'We Will Never Die' may coast on the past, tracks where they lean to Bon Jovi and Def Leppard then add some balls like 'Enemy In Me' sound fresh with an awful lot of crossover appeal going for them.
H.E.A.T.'s 'Tearing Down The Walls' is a guilty pleasure for me, and 'Laughing At Tomorrow' stands tall as one of my favourite songs of the moment. The band hit the UK for a short tour earlier back in 2014, they return on October 24th to take part in Firefest XI at Nottingham Rock City, and I have no doubt many attending that event will still have the band's sing along choruses resounding in their heads once they're back at work, school or signing on the proverbial rock 'n' roll.
8/10
H.E.A.T. 'Tearing Down The Walls' is out now via earMUSIC.