This October will see the release of a new album from Danish metallers Chainfist. The album tittled 'Scarred' will be released October 6th via Mighty Music/Target Group. This will be the bands second full length album, and will contain 11 tracks, produced by Michael Hansen at Phon Studio and mixed/mastered by Jacob Hansen (Primal Fear, Volbeat, Anubis Gate, Pretty Maids) at Hansen Studios.
The band have just released an album trailer for the album (which you can view below).
Chainfist have always been inspired by 'The Big Four' but also drawing influences from bands like Mercenary, Volbeat and Disturbed.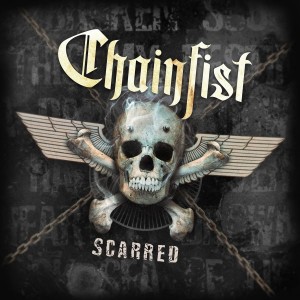 Track Listing:
01. Scars of time 02. 1000 ways to bleed 03. Black rebel noise 04. Another day in hell 05. Poison moon 06. 10.000 07. Know you hate 08. Seven minutes of pain 09. Statement 10. Mass frustration 11. Black rebel noise (acoustic)

www.facebook.com/chainfist