It's been a pretty good year for those Cambridge boys. Gaining traction with genuinely positive press, supporting the likes of Bruce Springsteen and Deftones, and hitting up the likes of Glastonbury, Download and Reading and Leeds; Lonely The Brave are one of the UK rock scene's most hotly-tipped new acts around. Having only released an EP and a handful of singles so far, their debut album 'The Day's War' is their first full-length showcase of what they have to offer. And it's rather fantastic.
To give an incredibly simplistic overview of the release, 'The Day's War' combines a grungy instrumental sound with soulful, towering vocals delivering evocative lyrics. But there's so much more to be said, as the band have an eclectic range of influences that certainly seep through into their work. Opening with an atmospheric Intro track, what follows is 12 tracks of beautiful and powerful guitar rock, with latest single 'Trick of the Light' being just the tip of the iceberg.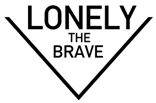 'Deserter' gives a perfect mix of guitar-laden backing with vocals that seem to stretch to the sky and well-timed drum fills; and the building, burning riffs of 'Victory Line' that lead into an uplifting solo demonstrate how well-crafted the songs are.  One of the standout tracks from their 2013 EP 'Black Saucers' delivers one of the heavier moments of the album. Hitting with frenetic drumbeats and crashing guitars straight from the outset, it's a real treat that will have toes tapping and feet dancing at festivals for years to come. 'The Blue, The Green' has the sensibility and delivery of a Biffy Clyro track – but still with their own distinct Lonely The Brave sound. 'Untitled', an instrumental, is a great example of how quieter moments can be used in breaking up heavier album, leading straight into the drum-led intro of 'Kings of The Mountain'.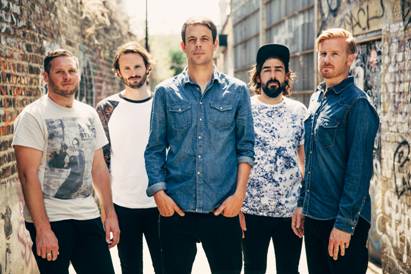 One thing that really does set Lonely The Brave apart from other bands breaking through at the moment is the vocals, with David Jakes offering up a beautiful tone that has an atmospheric and emotional pull. Title track 'The Day's War', although short and sweet at just over a minute in length, is perhaps one of the most striking tracks on the album. With just an acoustic guitar and vocals, it gives Jakes a chance to show off the more pared-down end of his delivery, which is equally as powerful and moving as the more soaring and open vocals demonstrated throughout the rest of the record.
It's unsurprising that Lonely The Brave seem to have such a rapidly growing fanbase, as their accessible yet proficient and technically intricate sound appeals to both casual radio listeners and more seasoned music aficionados alike. 'The Day's War' offers intelligent alternative rock with absolutely stunning vocals, excellent songwriting and well-crafted instrumental backing. But the thing that takes this from a simply well executed one to something really special is the real emotion and heart, laid completely bare, that shines through every element of the record. If you only listen to one album in September – make it 'The Day's War'.
9.5/10
'The Day's War' is due for release September 1st through Hassle Records.
Video: Lonely The Brave – Call Of Horses (Live At Angel Studios) HD