Founded in 1984, almost a life-time ago, Helloween have always been there in the background like part of the metal furniture, churning out album after album and their album covers are just as striking as the band themselves and adding to their plethora of albums is 'My God-Given Right' making it 15 albums in total. Highly impressive, when you think a lot of bands never make it past their first album, so longevity is important.
The first track 'Heroes' is a real thundering composition although undeniably powerful it also bristles with quick-fire melodies and rich riffs that lick the ears with malice. 'Battle Won' again oozes with liquid metal and a fist pumping glory that was well alive in the 80's (and today it seems) the title track 'My God-Given Right' boasts an anthemic tingle of excitement. 'Stay Crazy' is a rather poignant track that explodes further on into a well-rounded melodic bait but the words "Stay Crazy fresh as a Daisy!" seem a bit out of place to me. 'Lost in America' pushes on with fire in its ravenous belly while 'Russian Roule' holds a sparse riff that expands into a shrieking encounter, bursting with plenty of deep rhythmic prowess. 'The Swing of a Fallen World' holds a more sinister bait that sweeps in a predatory manner and slower than usual, but none the less heavy as f*ck! 'Like Everybody Else' is a beautiful track that showcases Helloween's softer tones that turn malignant further on, but still poignant and rugged in all the right places, creating an unusual track. 'Creatures in Heaven' sees some electro hints adding intrigue into the mix and give off deepening rhythms that seduce with allure and appeal. 'If God loves Rock n Roll' I think there is far too much mention of God here tbh, but apart from that the track bristles with energy. 'Living on the Edge' draws its stamina from the strong riffs that manifest themselves in a blinding rhythm. 'Claws' aptly titled for a track that leaves gouges on the skin with its virile twists and raucous attitude! 'You, Still of War' is quite an unexpected track that floats in a dream-like state until it hits a black smog and unleashes a thunderous fire.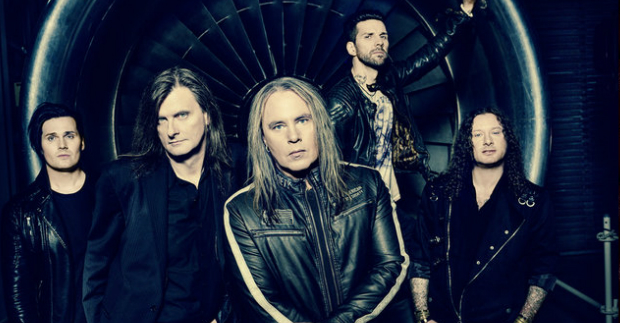 Although power metal isn't one of my favourite genres I can't fail to be impressed with Helloween's lust for life, with the added elements of diversity! At times I feel the vocals don't do the music justice, but I expect that is down to me listening to loads of death metal and so un-used to a clean coherent vocal, but Helloween have more than proved their point over the 31 years they have been producing metal, 1,678,667 fans can't be wrong, and it seems Helloween are a hardy band that show no signs of abating.
The textures of grabbing beats and unrelenting rhythms are rife for a stirring of emotions, topped with plenty of melodic quality, there is more than just one track on this album that can, I am sure, appeal to someone no matter what a metal heads favourite genre is.
It is straight from the heart and flourishes with hooks and melodies a plenty, igniting with passion that Helloween know only too well how to produce and do so in their own particular style!
Helloween 'My God given Right' is out now via Nuclear Blast.