Beginning with a single Fender Precision bass note that becomes a rhythmic heartbeat, electric guitars break out, envelope, search, then cry despairingly during 'In My Mind', the opening number from John Lodge's 10,000 Light Years Ago, only his second solo album since 1977's Natural Avenue. While reminiscent of Pink Floyd musically, this features the kind of harmonies long associated with The Moody Blues, the bass player/vocalist's main band since 1966; the song itself drawing you in appealing only to surprise the listener as it neatly concludes rather than moving towards extemporised elegiac fade out.
Those not completely au fait with The Moody Blues maybe unsure of what to expect: A band from Birmingham who formed in the sixties, had a hit with the discotheque blues of 'Go Now', revised their line-up to bring Lodge and Justin Hayward on board and with the investment of a Midlands-manufactured mellotron  scored again with the evergreen summer of love hit single 'Nights In White Satin' then with their Days of Future Passed album as template created a subgenre of music uniquely their own sidestepping from the English psychedelic scene to overtures within progressive rock that found them mass popularity in the States tapping into its early New Age cultural environment while in the UK they remained outwardly nice lads in a profession seeming populated by raving drug-addicted lunatics whose loyal fans have ensured they sell out arena-sized gigs to this day. With such popularity, Lodge could surely have released a number of solo records by now, couldn't he? Well, if 10,000 Light Years Ago is any indication, this Dear John is the musical equivalent of a dinner guest who offers witty, charming conversation but knows when to leave the party before becoming a crashing bore.
The nearest indication we have of Lodge's wild days has to be drawn out of the lyrics on 'Those Days In Birmingham' but such recollections of growing up in the second city fall broadly into the young-lads-having-a-good-time and name checking a few hot spots of the time. Evoking the Brumbeat sound of my parents' youth the overall feeling is of The Move busking on a tune written by The Searchers. More atmospheric for me is the goodtime fairground rock 'n' bop of 'Crazy' with its infectiously bouncy bass riff.
Like Fleetwood Mac's John McVie, John Lodge rarely embellishes his playing but it's always the perfect choice of notes for a particular song and nigh on unquestionably the kind of sound most of us wish we could produce if we wrapped a Fender around our necks. Lodge has similarly gathered fine accompanists who service the songs well, alongside drums and his own bass, there is often an acoustic guitar heard, and at least one electric on lead keenly played with biting, consummate taste by the living legend that is Chris Spedding, plus keyboards that don't overpower, and Moody Blues fans should note that former members Mike Pinder and Ray Thomas (keyboard player and flautist/multi-instrumentalist respectively) make a guest appearance. Vocally, for the most part Lodge's voice is a dry, clear toned tenor to age-deepened baritone on the record, though during the piano ballad 'Lose Your Love' just as its Jacques Brel-styled dreary despair is about to become a bit too much he lets out this falsetto that makes one start to pay attention all the more closely.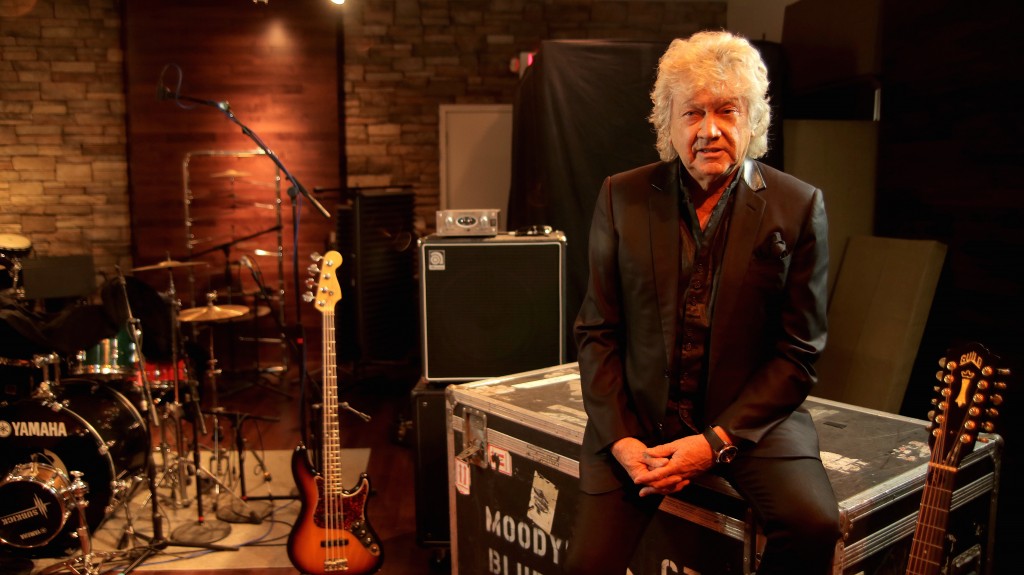 'Simply Magic' is pretty much what it says on the tin; a lovely ode to finding the right partner in life. A fetching acoustic melody with melodic bass underneath plus the former Moody members, that is waiting to be picked up for some British romantic comedy film currently in development. The other side of the coin narrative wise is the faux-Gaelic gypsy violin ragtime jazz of 'Love Passed Me By', the kind of tune that would have been a minor hit back in the day. And to complete the picture, the story of a relationship breakup is captured in 'Get Me Out Of Here', crammed with hooks aplenty that wouldn't be out of place on a latter day Beatles album, or a mid-period Moody's one for that matter.  These three tracks are genuinely a tasty meat filling in the sandwich of this album.
Bookending the record is '10,000 Light Years Ago' itself, opening with Lodge's Brummie nasal accent narrating beatifically on the affects of time before we're entreated to some epic progressive rock scaling chords with  beeping spacey keyboards, a piercing guitar signature line, phased multi-harmonies, and you the listener singing along to the title chorus of "10,000 Light Years Ago…" a couple of bars after the song itself has ended. Like I said, John Lodge knows when to leave a party without becoming a bore.
God, love, good times, questions, a few answers. John Lodge hasn't broken any new ground here, but he's proven why he's remained a top class musical performer for so many years. We can but hope there's not an epic waiting between solo albums again.