Blackmore's Night, the world's number one renaissance act and one of the most popular folk-rock bands in the world today will release their tenth studio album, All Our Yesterdays, on September 18th.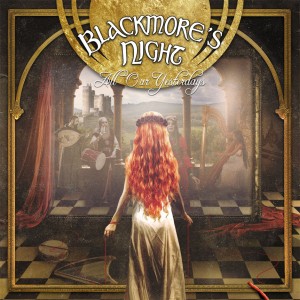 Blackmore's Night has been described as "a true musical and spiritual collaboration" between vocalist/multi-instrumentalist Candice Night and her husband, the legendary guitarist Ritchie Blackmore, co-founder of both Deep Purple and Rainbow.
The two met in 1989 when Deep Purple challenged Candice's then radio station to a charity soccer match.  In 1993 she sang live during Rainbow's Difficult To Cure tour, and subsequently co-wrote four songs for the Stranger In Us All album in 1997, prior to the pair forming Blackmore's Night;
Blackmore's Night are currently touring mainland Europe and feature Ritchie Blackmore (Electric/acoustic guitars, mandola, hurdy gurdy, nickelharpe), Candice Night (Vocals, chanter, cornamuse, shawms, rauschpfeife), alongside the curiously named Bard David of Larchmont (Keyboards), Earl Grey of Chimay (Bass and rhythm guitar), Lady Lynn (Harmony vocals, shawm, flute, recorder) and Troubadour of Aberdeen (Drums). Not only do they play what might be considered standard theatre gigs, but as part of faire festivals, appearing in castles and the like, all over the world.
Night said of the new album, "There's a theme to All Our Yesterdays' chosen songs that focuses on the attitude of living in the present, and looking toward the future, because we are, indeed, enriched by our past. My main theme and inspiration has always been nature and folklore from around the world." The pair's lives and creative journeys have taken them through different characters and songs from a variety of times in history, and this is said to be part of the attitude in the song 'Where Are We Going from Here' about a traveling minstrel's journey through life and age.
The title track (and also the first single and video), 'All Our Yesterdays' echoes the sounds of Night's Russian roots, while Blackmore's own family heritage is reflected in a new song written by Germany's George Hesse; played as an old-style, fiddle-driven instrumental with the Welsh title 'Allan yn y Fan' (meaning "Out There"). Other instrumental include the acoustic guitar piece 'Queen's Lament' and the dramatic 'The Darker Shade Of Black' that spotlights violin and guitar. Elsewhere 'Earth Wind and Sky' is a delicate ode to nature, two jigs sung by Night, 'Coming Home' and the supernatural-themed 'Will O' The Wisp'  that are joined together a latter-day folk dance entitled 'The Other Side'.
All Our Yesterdays takes further inspiration from Blackmore and Night's home town, where they take part in community folk nights where the neighbours share guitars and songs, and sing melodies that have come from a variety of times in their own history. Apparently, that's how they fell in love with songs of various radio formats of years gone by, notably the Linda Ronstadt hit 'Long Long Time' (penned by Gary White). Mike Oldfield's 'Moonlight Shadow' and what has been described as an inspiring maypole dance treatment of Sonny & Cher's 'I Got You Babe.'
Rumours persist of Blackmore's return to playing rock music, as noted by a steady increase of electric guitar played on Blackmore's Night records, and their last album Dancer And The Moon featuring an inspired blues instrumental dedicated to the late Jon Lord, fellow co-founder of Deep Purple. David Coverdale has said Whitesnake's own recent The Purple Album came about following a potential collaboration between him and Blackmore, though former Rainbow singer Joe Lynn Turner's comments of his pairing with the guitarist now sound premature. It transpires Ritchie Blackmore is looking into the possibility of playing a short set of dates in June 2016, featuring established musicians and otherwise, to perform songs from his impressive career as one of rock's premier guitarists. It will not however interfere with the continuation of Blackmore's Night.
All Our Yesterdays will be available through Frontiers Music SRL on September 18th in a variety of formats with pre-orders available through Amazon.com and iTunes/Apple Music.