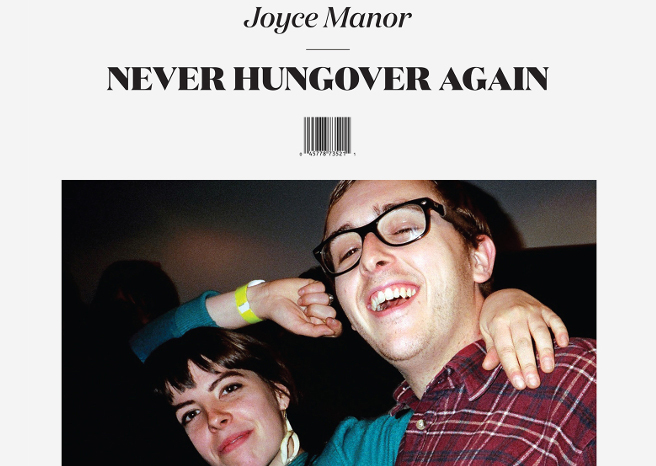 Were The Buggles actually a punk band?
I'm just wondering because – although The Buggles played synth driven numbers – we should not forget that the singer, Trevor Horn, started producing music in punk bands and he also worked with Malcolm McLaren. And Joyce Manor has covered 'Video Killed the Radio Star' (even if they played their version like the Jam) and the third album from the Manor's does sound uncannily like The Buggles at times. They share the same sense of melody. Same sense of drama. Same sense of decaying attitudes. And dealing with serious topics with a lighter touch. Just saying.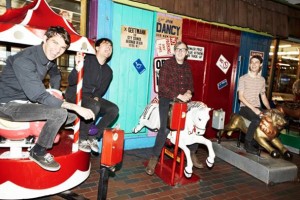 Joyce Manor is an American punk rock band from Torrance, California, formed in 2008.
Now that Joyce Manor have signed to Epitaph Records (the label owned by Bad Religion guitarist Brett Gurewitz) they have released their most Bugglesome title ever: 'Never Hungover Again'.
The album begins with an off-season 'Christmas Card' with brocaded vocals and lumpy bass. The best bit of this track is discovering the wonderful bunches of chords that are wire-tied together like wedding bouquets.
'Falling In Love Again' has a staggering pace. Then the guitars writhe and squirm uneasily. The final dying away is into some radiant, golden light. And the chorus starts repeating on you. Like last night's sweaty tacos. It's the kind of faded glamour that you might associate with an oldish UK indie-pop band like Lightning Seeds.
All this talk of Christmas – and now we find ourselves at the 'End Of The Summer' – this is all pretty depressing. (The song titles, I mean, not the songs themselves.) This song is a trudge. It's a well-proportioned, typical power-punk piece. A skater-antiphon.
'Heart Tattoo' is rapid and truly angsty. Like a moody teenager touched by the zit wand during the night. It is is hurt and alone. And oh-so sulky. This song seems superficially adolescent in its expectations of love. Can it be true that love is only real if it hurts? Perhaps there is irony at play here.
There are other metaphors here too, in songs like 'In The Army Now'. This track has another Jammy sound. Is the proswagonist in this song actually in the Army now? Or is it this just a concept – just a 'word wrap' – for all kinds of other nefarious institutions and 'authority' generally. If so, it is a great way to put someone down. See a friend wearing a neck-tie or buying a golfing sweater? Then tell them: "I always knew you'd join the Army…"
'The Jerk' is the most Smithsonian of all the numbers here. Stressed Morrissey-type vocals float loftily above all the enriched textured surfaces below. This is dangerously addictive. And sugary as hell.
This album is up-tempo and fun. Full of wit and humour. Whether it has the clout or the rancid bitterness to be properly classified as punk – remains to be seen. But, certainly, this will fill a cloudless day with a few minutes of fast-action bliss. So it cannot be so bad, can it?
6/10
New album 'Never Hungover Again' out now via 21st via Epitaph Records.
Watch video for 'Catalina Fight Song'