"I just feel incredibly confident about everything on the record" is always a great indication for the front man of your band to talk about your latest album and the thing is, Chris has not misplaced his confidence.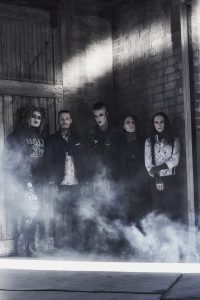 Motionless In White are back with their fourth studio album, Graveyard Shift after moving from Fearless Records to Roadrunner Records. Twelve tracks that have been given the refinement treatment rather than this being an exploratory venture into musical boundaries. This is refreshing to hear from a band and makes a change from the "we're going back to our roots" approach. With that being said though, Chris Motionless has said that this latest record is about the band's work ethic that had been instilled into them from their industrial hometown of Scranton in the north-eastern region of Pennsylvania. They believe that this blue-collar work ethic and the bands' ever-growing fan base has been the overriding key to their success over all else.
Track ten, entitled '570' has been described as an "homage to home" song, the number '570' coming from the area code in which the members all lived. This is the hard-hitting, punchier track of the album [along with 'Soft'] with lots of guitar chugging and blast-beats from the bass drums. The lyrics; "Ten years on the road, this is sacred" and "because if you mean it, you will make it" in this song perfectly mirror the overall message of Graveyard Shift of hard grafting.
Track three, 'Necessary Evil' I particularly enjoy as we are treated to the guest vocals of Jonathan Davis of Korn on top of a re-worked chorus borrowed from the Lesley Gore song; "It's my party and I'll cry if I want to" to "It's my party and I'll die when I want to".
We are also provided with the first proper love song by MIW called 'Eternal Love' which you can find as the last song on the album, which Chris describes as "a very poetic and romantic approach. That's something, as a lyricist, I have been trying to explore more of within myself over the past few albums.  It's a special song for all of us." You do get the feeling that Chris has pushed himself more with this record in terms of his writing ability and his vocal work and this, therefore, backs up his confidence that I started this review with.

'LOUD [Fuck it]' is the ninth track which immediately reminds me of listening to a more crunkcore sound of Family Force 5 mixed with skater music and a Marilyn Manson vibe from the nineties/early two thousands. It's a very energetic, jumpy and party fuelled anthem of a tune, making sure you "turn it up now."
Motionless In White are releasing their fourth studio album, Graveyard Shift on Friday 5th May and will be having their only UK show at Download on June 9th.