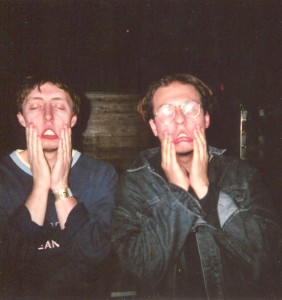 This Sheffield duo have always been a bit messy. Their 2013 debut full-length 'Whatever' was a boisterous bundle of angsty energy, making waves at a time when emo was entering its latest, scuzziest phase. Released on Dog Knights Productions, it put Nai Harvest in the same grubby punk bracket as the likes of Gnarwolves and You'll Live. They followed this up at the end of the same year with Hold Open My Head, an EP delivering largely the same flavour of grunge-tinged emo, and have since been building their name touring, progressing from supports to headliners in the UK and taking their sounds to further shores in Europe and the USA.
Emo kids usually grow up though, and this pair appear to have done so in past 18 months, graduating from British indie champions Dog Knights Productions to transatlantic standard bearers for kids with feelings Topshelf Records.
Thankfully, as Polar Bear Club once said "growing up isn't moving on" and Nai Harvest are still as impassioned and honest as ever on 'Hairball', they've just toned down the whining in favour of more fuzz. In a move reminiscent of Title Fight, their new sound is significantly more 90s than their previous releases. There's a heavy dose of garage rock, a touch of shoegaze. It's cool. The production is rough and grimy, but by no accident.
Some might describe this progression as an indie crossover, but considering many of their fans have grown up as well, displaying their punk roots less obviously should come as a welcome change.

Each track is an invitation. 'All The Time' takes you by the hand and leads you skipping down the beach with its infectious summer vibes. It's a pop song that guys with greasy shoulder-length hair and big sunglasses can jam out to. The upbeat 'Melanie' plunges you into the midst of a serenade that's almost Weezer-esque in mood.
'Hairball' is exactly the scuzzy collision of emotions and fuzzy guitars that Nai Harvest needed to progress to. It's quite a departure from their previous style, but at its soul it's the loveable and highly jam-able summer record the Sheffield duo's fans will appreciate. And if you're not that into emo, that's no longer a problem. All sorts of rock bases are covered here. It's just fun guitar music.
Nai Harvest 'Hairball'  is released on 28th April 2015 on Topshelf.