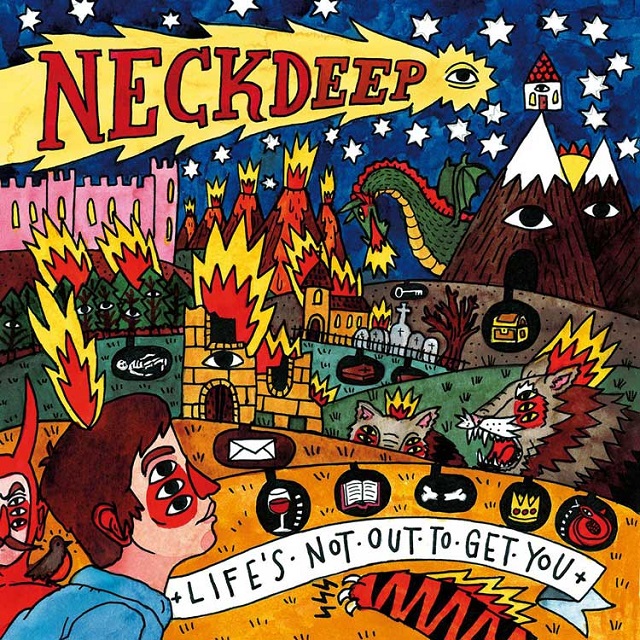 The British pop punk scene has certainly been having a 'moment' over the past 18 months or so, with up-and-coming songmakers taking the lead from American pop punk, dirtying up the squeaky clean parts and giving it its own UK spin. Leading the tribe of the riff-driven bouncemakers are Wrexham's Neck Deep, whose debut album Wishful Thinking made big waves last year – hitting many an Album of the Year list and propelling them to sell out shows up and down the country (and beyond). With 'Can't Kick Up The Roots' receiving praise from fans and Radio 1 listeners alike when it premiered in May, hopes were definitely high for the release of sophomore studio album Life's Not Out To Get You.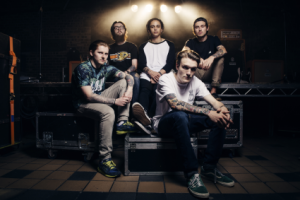 Opener 'Citizens of Youth' starts the album with a rougher sound than showcased in previous releases, a Sum 41-style skate vibe rather than the pure infectious bounce that fans might be used to. Although enjoyable, it does feel at odds with the rest of the album – but seeing a band whose sound could easily become repetitive with longevity being able to experiment a little more is something exciting to see and a promising nod to the future of Neck Deep.
No pop punk record would be complete without a 'hometown' record and 'Can't Kick Up The Roots' doesn't just take that spot, but seizes it with bounce-inducing riffs and even the coveted gang vocals. Infectiously catchy. 'Serpent' brings in a slightly heavier and more developed side to their sound, with stripped back opening bars carried by Ben Barlow's vocals leading into gunfire drums and a nod to the emo-influenced songs of the 00s both vocally and musically.

Although the entire band definitely have their place to demonstrate talented musicianship, it's Barlow's uniquely recognisable vocals that really make Neck Deep stand above their contemporaries – with an equal ability to deliver fast and hard but also pull back when it's needed. Providing a short interlude to the energetic frenzy of the overall record, slower tracks are something the boys have dabbled with in the past with early track 'A Part of Me' – and they've cleaned up and perfected the sound for 'December'.

Even though Neck Deep to tend to pull in a fair few of the pop punk clichés across the album, the fact is that this band are just creating damn great songs. Moments within the record demonstrate their ability to go beyond the traditional pop punk sound. Showing fans of the genre across the pond that they're not the only ones able to pump out the catchy choruses and upbeat riffs, Life Isn't Out To Get You firmly plants Neck Deep as leaders of the pack in the British pop punk invasion.
Life's Not Out To Get You is released on August 14th through Hopeless Records.