Featuring a member of the Sisters of Mercy and a former vocalist from Voodoo Six, such a résumé may lead the reader to presume Night By Night are ones for the Goth zombie rock shtick, whereas they're something of a throwback AOR band but playing some meaty modern riffs and hinting that there's an area of instrumental experimentation they're currently reining in, but should consider developing.
Based in London and formed as far back as 2008, Henry Rundell fronted Voodoo Six and guitarist/vocalist Ben Christo has the Sisters gig, you add bass player Jonny Thornton to that mix and you've got yourself an impressive three part harmony vocal line-up. Complimenting them are guitarist Tom Daniel and drummer Damien Diablo, with a few added musicians appearing in the studio for their debut NxN produced by Romesh Dodangoda (Motörhead, Bullet For My Valentine) and mixed by John Mitchell (Alter Bridge, Asia) at Outhouse studios and now available via Cargo/Sun Hill, while on the live front they've played throughout the UK and Europe supporting the likes of Jettblack, Heaven's Basement, Alannah Myles, The Quireboys, Warrior Soul and Y & T.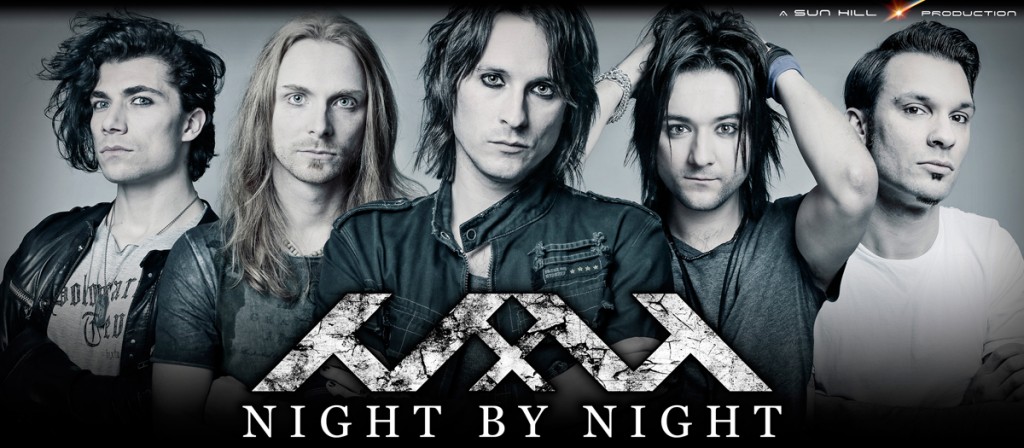 A tumbling Alter Bridge/Sabotage-era Sabbath riff sets forth on its mission only for listeners to be thrown as curve as a tuneful high pitched voice appears flanked earnestly by harmonies on opening number 'Time To Escape'. This dichotomy of sounds is hook driven regardless, and as Henry Rundell hits the kind of high note you thought singers had foresworn a brief guitar solo ensues and this listener decided the rest of the album was worth hearing too.
A heavy groove riff, a lot of cymbal riding and some kick ass harmonies follow with 'Holding Onto Holding On' where the guitar solo plays old school and modern without outstaying its welcome, then the harmonies come to the forefront for 'Can't Walk Away' sounding like something off Yes's 90125 as much as Def Leppard, who are the most obvious influence on this band before the main song itself struts like early Kiss. It's perhaps a tad too long though there's a guitar instrumental section that would have been worth them exploring a little more musically. We've got a good band here with smart ideas, but they tend to stick close to a formula and could potentially offer a lot more variety, as it is they tend to focus on short, sharp songs like some alternative world version Def Leppard had that band developed their Getcha Rocks Off harder-edged variety rather than having Mutt Lange streamline them. As it is Leppard's Rick Savage has lauded the band publically and may be involved co-writing/producing their next album.
'Everywhere Tonight' is a more laid back number though not quite a ballad; riding on a pumping bass line, there's an AOR cuteness to it, and two brief solos the first arena styled, the second flowing freely as the song fades. That changes with what could be Alter Bridge riffing on Led Zeppelin's 'Kashmir' with a little Goth thrown in for the more menacing 'Siren' wherein there are pleasingly sinister guitar fills and controlled feedback present as ambience in the background. 'A Thousand Lies' features another harmony opening but is most noticeable for its speedy riff and some neat widdling of guitars in between, alongside some choice conversationalist lyrics. 'It's Not Faith' is bubblegum stadium rock of the sort Starz wrote the blueprint and Leppard retooled for success, albeit that occasionally the harmonies and guitar hooks fight each other for space. 'The Moment' is unabashed throbbing passionate new wave pogoing-pop rock one moment, AOR harmony ecstasy the next, with catchy lyrics, a guitar that's clean sounding but wants to get dirty, and again some musical asides that are too brief as not only they not only hint at the band's potential for growth but the talent they've got at this moment and are hiding. 'If Only' could be The Mission doing a poppy U2, on what's an average song for the most part until the musical interlude where the guitar solo gets interesting and the underpinning musicality does likewise, playing chord inversions and the like.
'Never Die Again' was a good choice to end the album on. Over a slow eerie opening Rundell sings out his heart – his voice can be close to Joe Elliott's at times but he can hit a hell of a lot more notes with some pop wailing soul on the rights side of Simply Red or Savage Garden. The song then pummels forward like a horde of Goths with incessant harmonies in war cry, then rocks back with some good drum rolls, gets ever brighter in sound and more urgent in approach, with strong harmonies and lead vocals to the forefront, before moving into an ascending epic mode with a pop hook here and a racing guitar line there.
This is fine melodic hard rock that looks to the past but lives for today. My own preference would be that they continue to broaden their musical horizon, whereas a marketing man would advise these good looking skinny youths to ditch their guitars and make the big time as a boy band who can actually sing.