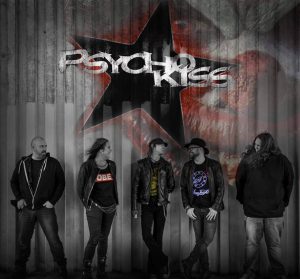 Psycho Kiss come from South Wales area, a place that already has had its fair share of rock and rollers, possibly the largest of which being a certain Phil Campbell who needs no introduction. It turns out that apparently, that isn't enough, cue Psycho Kiss.
Grit is a clean cut, straight up in your face rock and roll release. The clean, classic sound makes it sit comfortably into any collection and plays beautifully from start to end. Not all is clean though, the insanely powerful voice of Helen Ceri Clarke soars over and blends perfectly to make a memorable album. Songs like 'Sociopathic Psychopath' ticks all the boxes, instantly I'm reminded of 'Perry Mason' by Ozzy Osbourne. It is an instant hit in its own right. While 'Grieve For You' hits the softer rock side of the coin. You can easily blabber on about the strength of every song on the album, but it would be hard to do each one justice with words. It is something I can only say is worth getting and finding out for yourself. You can thank us later. It seems the more I listen, the more I like it, so a huge thanks to Natalie Conway for introducing them to me.
The band have already covered the UK relentlessly with gigs, but it seems that the best is yet to come, and Grit seems to be the album that will be the key to open all those doors. A pure powerhouse that seems to play so proficiently and with a band that compliment each other so well on record, I look forward to what lies ahead for them. I certainly hope to be seeing them live soon, I imagine it would be hard to top the power of this album live, but if any band will do it, Psycho Kiss will.