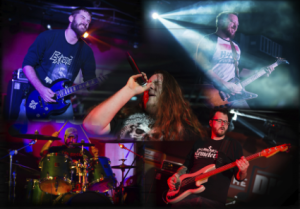 Vermilion Whiskey have been about and kicking ass with their South Louisiana sound since 2010, with a stellar release 10 South back in 2013, they carved their way through the live music scene. Fast forward to 2017, and they are back, this time with Spirit of Tradition.
Don't let the small track count fool you, running at full length it is still just short of the 30 minute mark, but this 6-track album is all about quality over quantity. 'Road King' is the perfect starter and screams what the whole band are about, the sound will have a crowd drink any bar dry. 'The Past is Dead' leans its way more on the metal side, this gloomy swamp like feel drudges along steadily, enough here to give Phil Anselmo and the boys in Down a run for their money.
'Come Find Me' is filled with chugging riffs, things get into the groove quicker than a fish takes to water here. Flowing smoothly into the rocking monster of a track 'Monolith', beer swigging and fist pumping at its finest.
Closing up with 'One Night' and 'Loaded Up', a perfect rounding off to a short, but nigh on unbeatable record. There's no nonsense with Vermilion Whiskey, they sound like they have gone straight in the studio, cracked open the beers, smashed out the tracks, and got themselves straight down the bar, and I'd expect no less. They've found their sound quickly, and stuck with it, much like the title of the album, they really have stuck with the Spirit of Tradition.
Spirit of Tradition is out on February 17th.