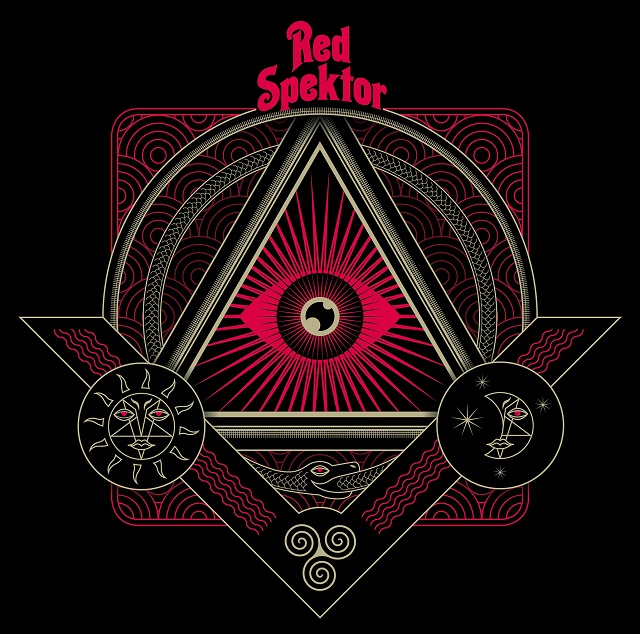 Red Spektor Red Spektor is to be released 29th May 2016 via Kosmik Artifactz
It seems as if Black Sabbath created more than just metal when they lured everyone in with their heavy deep grooves that were doom laden and deceptive. As stoner was created from it, although mixed with psychedelia and blues it becomes something else entirely.
These three guys from Stoke on Trent who call themselves Red Spektor know just how to gain attention. They have created this amazing 10-track album and if that is not enough they have brought back vinyl!! Available to pre-order in Black, Red or Black Marble on Red here.
Red Spektor kick off the album with 'Before the Sunrise' – it's edgy ambient and highly energetic in places. Keeping mainly to its slower paces, however, it may be throwback to the 70's but with a modern twist that keeps it up to date with the present.
'Pagan Queen' has that rumbustious heaviness that would get a crowd on its feet within seconds. A very enjoyable track that has stoner written through its core!
'Timeless Requiem' is a startling track that has hypnotic elements through-out its three minutes and thirty one second groove, housing some superb and thrilling fret work.
'Cosmonaut' – "Get your space helmets on it is going to be a bumpy ride!" – This track blisters with more than just a cosmic feel. Catchiness goes hand-in-hand with heaviness and grabs the ears with abundant rhythms.
'Elixir' – This track has angular edges and mixes a slow pace with tons of ambience, however it never loses punch and energy – it's just secreted differently.
'Into the Maelstrom' is very aptly titled as the track twists and turns a lot of corners before creating a void of madness. Again attention grabbing sparking off surprising elements leaving lasting impressions.
'Fields of Fire' – Hedging its bets going into a dream-like state that echoes vibrantly and as compelling as the last track. Raising a hellish monster from the depths this track has sizzle and bite.
'Torpedo Head' holds a superb biting edge that simply bubbles with tenacity and deep seated energy, ravaging the ears in no uncertain terms.
'Black Moon Rising' sounding none too unfamiliar to Sweet's Blockbuster – believe it or not, but they can be forgiven for using a riff that is so delicious.
'Lost Soul' lends its hand to a slow predatory riff with not a lot to back it up apart from some celestial harmonies.
Definitely a winner!