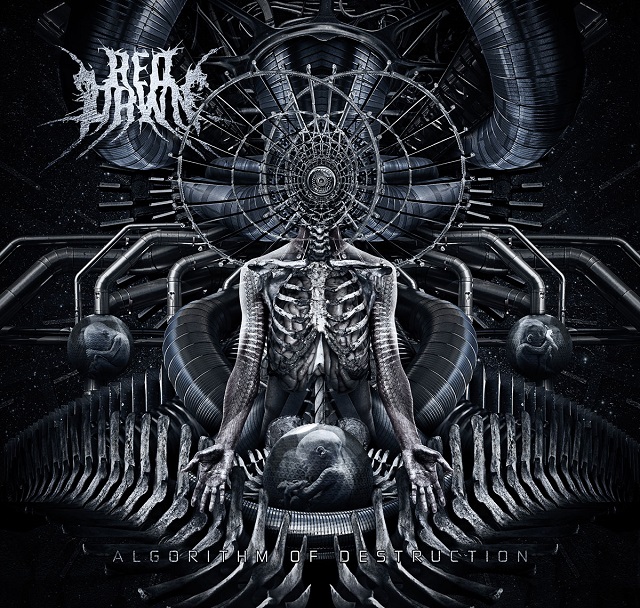 Red Dawn is a death-metal band originally from Rennes in Brittany. Created in 2013, the training consisted of Thomas on drums, Val bass, and Nours on Vocals. While the guitars are executed by Flo and Chris. With influences as The Faceless, Necrophagist, Decapitated, Aborted or Gorod, the group officiates in a decidedly brutal and technical style. The guitars with fast and melodic riffs are supported by a battery of varied patterns, alternating with a voice growl and grunt.  In March 2014, the band released its first demo of two songs recorded in Alter-Ego – Never-mind then mixed and mastered by Vamacara Studios!

[divider]
With my increased need for 'no clean singing' I find myself drawn to this album because I can almost taste the brutal evisceration that is contained within its confines, and I love the thought of being massacred by its volume and tenacity as each riff and blast beat injects itself into my skin and infiltrates the veins which such ferocity! I know I am not going to be disappointed….
'Introduction' is already leaving its mark as it builds to a climax with its antagonistic marching sound. It creeps edgily and hosts a certain malignancy….
'Cracked Clock' immediately gets down to business and rapaciously explores its fiendish side, like a race between good and evil, the growls emanate demonically and more than graze the ears with their putridity. 'Hate' begins with a thunderous scream that shakes the foundations of your very soul and is no less energetic than the previous track. It is so venomous it curdles the blood in your veins! 'Strange Dreams' is as brutal as it is cantankerous, and goes in for the kill, sweeping aside anything in its path. The devilish vocal growl and wind tunnel screeches are bliss to my ears! "Looking through the Eye of God" is the obligatory track that pokes fun of the so called heavenly body we all know doesn't exist; it kicks off with an angular strike of cymbals and then roars into a deep ravenous growl that would swallow anything remotely religious. Powerfully seductive and rousingly infectious! 'Algorithm of Destruction' is the band's title track; it's rambunctious and vehement as expected and just as detailed as the cover. Colouring its frame with fiery outbursts of riffs and malevolent beats, it is highly charged and magnificent! In 'Alter Ego', again the demon voice turns into a growl and scours the depths of depravity with such ease. The forces are at work here creating a volatile tempest to completely succumb to. 'Fall of Curtain' sees a more upbeat tempo come into play but none the less vile and volatile. The guitars speak in a language that resembles your total submission, while the rhythms are increasingly furious and dynamic. 'Infinity of Time' it's that time again when the peak becomes the trough, the final track is reached L but what a track this is, powerful, dark and brooding, and soaked in humongous beats that terrorise with striking ferocity!
The dark forces are in unsubtle attack mode!