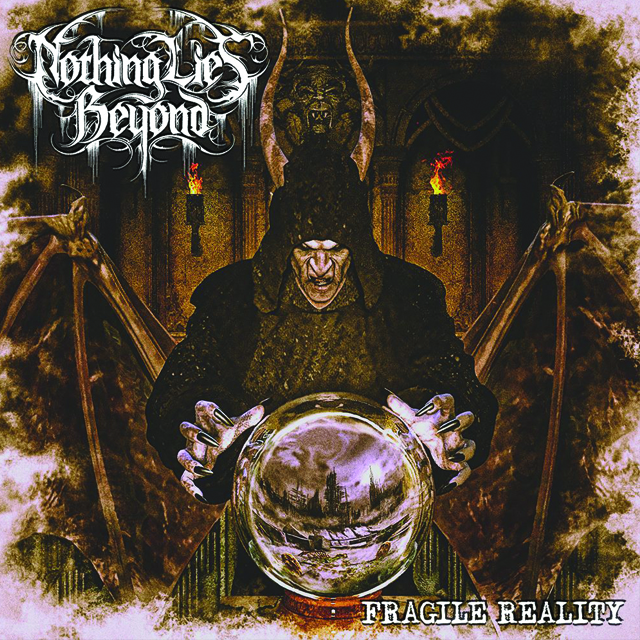 Hailing from Tel-Aviv, Israel, melodic death metal outfit Nothing Lies Beyond formed in 2011. Soon after their inception the band recorded a demo 'Fading Beyond False Eyes' and hit the local circuit, playing small club shows which eventually led the band to appearances on bills with the likes of Salem, Dark Tranquillity and Children Of Bodom.
Having recently completed work on their debut album, which was recorded at AG studio in Israel, the record entitled 'Fragile Reality' will see the light of day this summer and is a true statement of intent!
[divider]
Always good to get your lobes around some melo-death but it isn't every day you see a band from Israel dishing out the seduction and sheer pleasure this genre brings.
'Redemption' starts off with a few annoying crackles until it starts to blossom and those big sounds begin, it is only then that you realise these guys know their stuff! It is all powerful, haunting, deep and just the beginning!
'Closed in Chains' as predicted NLB barge into this track like an express train although with a bit more precise expertise! The drumming is solid, the vocals really have a grip on the ears and the guitars are perfection personified.
'Lost' is a rebel rousing tortuous affair, it flings itself viciously into the limelight. Vocally rampaging with low toned growl and high pitched scream, it engages on all levels and a highly emotional soaked encounter!
'Another Place' is yet another thrilling track that blisters with raw intent. The savage vocals are invigorating and thrilling to hear. The sound is hypnotising, and burns with the intensity of an out of control fire.
'Never Back Down' melodically spills its guts in this highly flammable track that just keeps on giving and that is just for starters! Irresistibly catchy with a throbbing bass it can only get better from here in.
'Fading beyond False Eyes' capturing the imagination this track hits the ground running and doesn't stop, its devastating rhythms protrude through skilfully woven textures that are emotively charged.
'Final Fight' gives the drummer a chance to shine on this earth 'battering' track. High spirited and lively with heaps of sumptuous melodies creating a scene that grows with increasingly good imagination and tremendous power.
'Visions' lets rip with equal abandon on this lush and plentiful album. It gathers no moss as it rampages with brutal essences of extreme intrigue and rabid emotion.
'We are the Revolution' it is sad to see that the final track has been reached, but here it is creating more melodic flow and tempestuous groove. The blast beats are at least 1000 a minute – I think Ariel is an octopus creating beats of this calibre!
This has been one enjoyable album from start to finish there is no getting away from it. Engaging on every level and for me, those vocals help greatly along with the highly fuelled guitars and solid bass hooks.
Definitely one for the record collection!