Sentient Horror is a death metal band from New Jersey formed in 2014 by guitarist/vocalist Matt Moliti (ex-Dark Empire). The vision behind Sentience is to play classic early 90's style SweDeath with a strong emphasis on great song writing and musicianship!
The album cover is as stunning as the slabs of metal contained inside it! The prowling and intense opening track 'Into the Abyss' is just a brief encounter of 50 seconds – a familiar trait of death metal bands which can be annoying when the music is so good and you want to hear more.
'Abyssal Ways' wastes no time in thundering into action seizing the moment with a tirade of blast beats and low toned malevolent vocal slurry. 'Die Decay Devour' does what it says on the tin, as it singes and burns through the tender audial flesh in a frenzy of captivating and riveting rhythmic infection!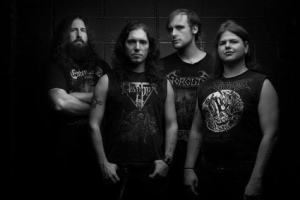 'Blood Rot', the title says it all for a keen death metalist and what you want to see on an album. It seethes with a heavy structure of textured rhythms, weaving an engaging path of destruction, insane beats and caustic vocals making it a superb encounter. 'Splinter the Cross' another familiar theme, pokes a finger into the eye of religion. Battling the elements with catchy command of unmistakable potency, ravishing everything in its wake. 'Beyond the Curse of Death' is madness personified. The evil rhythms and crazy blast beats set to work, disrupting the ears with exploits of greedy attention and warranting justice for its technical embrace.
'Ungodly Forms' the title track, is a strenuous one that indulges the imagination with rhythmic sway and dark malevolence, drawing the unwitting listener into a world of madness. 'Suffer to the Grave' takes a mad dash across a soundscape of punishing brutal rhythms that will no doubt leave one salivating!
The glorious vocals are forthright, harsh and malicious, backed with sheer unadulterated riffage. 'A Host of Worms' is a fast paced track that gathers no moss, for sure takes more than a vicious stab at the ears before colliding with a brutal groove that torments the soul. 'Of Filth and Flesh' employs a thunderous swipe of metal, invading with infectious and severe rhythmical pounding. The riffs are indulgent and magnetic in delivery.
'Mourning (Instrumental)' gives the listener and the band a small respite which after all the head banging – much needed! It's a beautiful passage that proves the band have the much needed diversity and have executed this track with finesse. 'Celestial Carnage' sees Sentient Horror return to their death metal roots with a vengeance! Taking its life in its hands it brutally devours with intent.
Sentient Horror Ungodly Forms is out 9th December 2016 via Testimony Records.