Well this is very interesting, the beat takes you on a very clever journey with a psychedelic ticket to ride. The impressive riffs are more than pleasing to the ears and versatile with superb vocal slant added to the proceedings showing great harmonies and rhythmic prowess, plus uncompromising emotions that seduce and capture the tempestuous groove. Such a great track to open the album.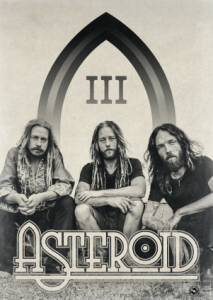 'Last Days' is another track that plays a big part in seducing with melodic swings, and twists and turns that collide with skilful devouring. 'Till Dawn' is a romp that swoops and attacks the ears igniting a melodic and harmonic rhythm that holds weight, with incredible vocal harmonies. 'Wolf & Snake' takes a slow amble through its paces and infects the psyche superbly. The grooves are consistent and powerful – even to the point of mesmerisin. The vocals come into their own on this track and appear a lot harsher than previously, with a supersonic riff travelling through its bones. 
'Silver & Gold' is quite chilling in ambient form sending goose bumps through the body. It's a very creative track with sensitive lyrics and double harmonies that are pitch perfect. It draws you in with contrasting textures that hold an imaginative embrace.  'Them calling' holds plenty of rhythmic persuasion and a deep groove that manifests with intriguing quality. It's a bewitching track that engages on every level. 'Mr Strange' finishes the album with a deep penetrating rhythm that sprawls across the imagination like an infection.
All the tracks on this amazing 7 track album are either dramatic or melancholy but either way encaptivating. Their solid rhythmical endeavour is forthright and mesmerising, coaxing a superb riff, to simply grip attention to detail and feed the soul a massive feast.
There are not many bands that still do heavy psyche which is a shame although stoner doom genres do head in that direction and are a welcome genre. It's music that focuses the mind and steers it into a relaxing void.
It possesses a sheer satisfaction one that is certainly engaging. Ebbing and flowing like a tide, producing a good solid soundscape, it has clearly been thought out and produced to a very high quality indeed.
The guitar sculpts the tracks with intensity and compelling rituals, the drumming is subtle and edgy, the bass draws you in and the vocals are potent, so it ticks boxes every which way.
Asteroid III is out 11th November 2016 via Fuzzorama Records.