Genre: Genre Defying
Sisters of… is a genre-defying project from St. Joseph, Missouri. Multi-instrumentalist Aaron Coker (ex-Appleseed Cast, Reggie & The Full Effect) reinvents the traditional interpretation of a 'band,' hand-picking a rotating cast of fellow colleagues to collaborate on Sisters of… material. Tired of musical limitations, Coker's idea of blending heavy and atmospheric sounds was realized in a track that evolved into the cornerstone of Sisters of…'s first EP, Follow Me as a Ghost. Highly sophisticated and thoughtful composition was guided by long time writing companion Chris Clark's (ex-Blackpool Lights) guitar and bass and supported by Isaac Khan for the title track. Layers of post-rock, metal, and experimental elements build evocative soundscapes that expand beyond the conventional themes of life and death.
Impressed by Follow Me as a Ghost, which St. Joseph's News-Press called "experimental metal at its finest," Crowquill Records invited Sisters of… to join the label and work jointly toward the actualization of Sisters of…'s first full-length, released in early 2015!
'The Serpent' kicks off with a beautiful melodic core that oozes with spine-tingling moments and surprisingly a female voice of unknown origin. I can see why the band are genre defying now as I have never heard anything quite like this before, yes, its highly sophisticated metal but with an individual mind! The next track entitled 'The Angel' works itself up into a nice brooding bounce of deep rhythms that sees the body obey their every whim. The guitar is precision driven and symbolises a distinctive pull that is uncompromised by a pulsating beat that is steady and forthright – thus holding so much allure and appeal.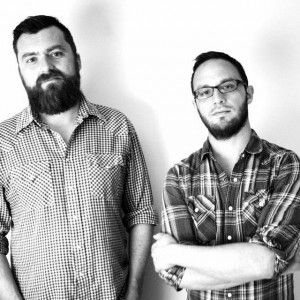 'The Adversary' holds a very interesting bass hook that slides up and down your spine and brings out goose-bumps in their thousands. Your hair will stand on edge and you will feel a rumbling in your gut and not through lack of food as there is more than enough to satisfy the appetite in this spectacular track! It is music you can feel with every inch of your being, you can live it, breathe it, eat it, mould it, bend it you name it this is pliable and will leave open mouths everywhere! 'Germana Cele' is a far reaching sinister ambiance that bristles with a haunting and melodic passion. There are no words needed as the music tells its own story. The uniqueness apparent as the notes are well-rounded and all encompassing. 'Annabelle' is extraordinary with its phenomenal run of powerful riffs and beats that melt into one long flowing lava trail and hurried along with a sneaky bass that guides it with precision skill. It eats into the psyche and gnaws persistently, with a keen and forthright edge. Just shut your eyes and think of whatever the hell you like, this track will paint pictures you have never seen before! 'Annaliese' with a soft whispering in the background the guitar chords allow for them to glide mesmerically through an unknown wilderness – 'the bizarre meeting the exceptional' so powerful it haunts and then possesses and the chills ever present – it is a very descriptive piece of music that makes you aware of your very soul. 'Leva in Mare' is an amazingly beautiful track that lights the way with even tones and solid hues of ambiance.
Certainly off the beaten path will take you into a world that is yet to be fully discovered and explored. Its colourful, bold, beautiful and an enigma. Very few have ventured into this landscape and I doubt a lot will, but then that is their loss! For me I could quite happily reside there.
The sophistication grows through-out the album. It is very genre defying and I don't think anyone could cram this band into a pigeon hole easily.  These guys are both individuals who express their characters through being forthright and yet seductive. This whole album is a constant pleasure to behold.
It can safely be said that the band's music is flexible and can be experienced through the eyes as well as the ears and most definitely the mind!
The fact there are very few words sung matters little as the music is an encyclopaedia it will tell you what you need to see, hear, feel and explore and that to me is just pure magic!