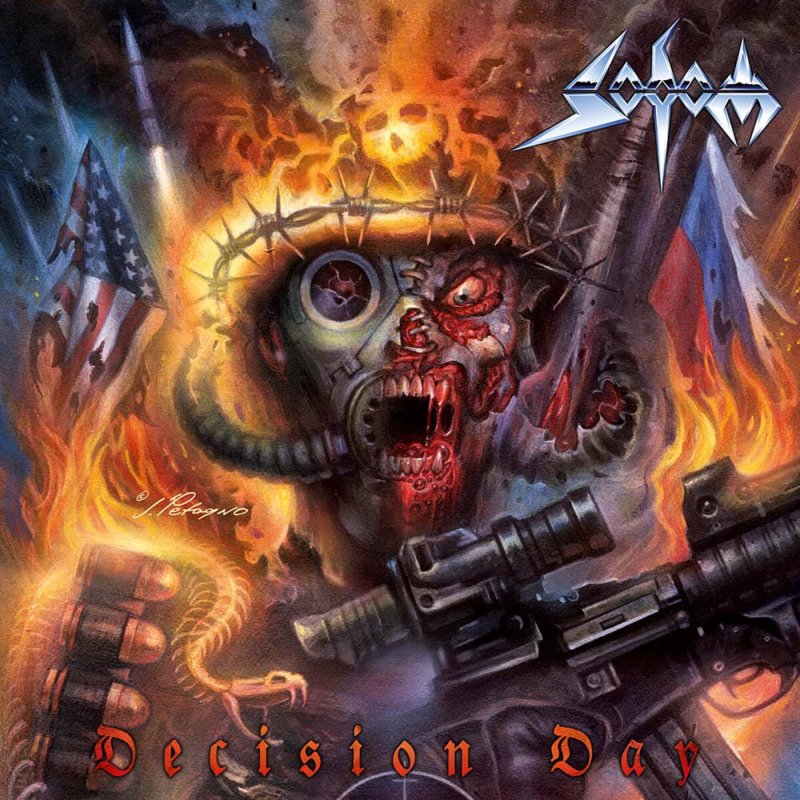 Drumroll please, and be sure to add those thrash riffs into the mix because, ladies and gentlemen, the new Sodom is here.
With a history that spans a massive 34 years and with a back-catalogue of 15 albums, the band are still going strong as they release Decision Day and sure, as an old school thrash fan, I may be a little biased when it comes to reviewing such a record, but to that I simply say, thrash or die mother******s, thrash or die. And thrashing is exactly what Sodom have done and will continue to do until their last breath.
The great thing about Decision Day is that the band are taking their tried and tested Sodom sound and cranking up a notch. The production on the album is far greater than previous efforts.
'In Retribution' starts things off as they mean to go on; as I listen to it I can visualise the dust rising into the air as the fans visiting the European metal festivals this summer go crazy in huge circle pits to the oh-so-thrash riffage that really takes hold of the listener.
"Rolling Thunder" shows no sign of letting up. With that iron thrash grip still clutching at me as I listen, I feel like this track just repeatedly smashes me against the floor until a short break in the song with an acoustic guitar gives a much needed rest right before I am taken back to hell and smashed to bits again.
The title track "Decision Day" gives us a bit of groove which could be considered the calm before the storm as the thrash riffs kick in once more. This is what I love; Sodom have been so consistent throughout their years in the thrash genre – they have gone with what they know and they do it well. It's a great track and a very appropriate representation of what the album is.
Things progress exactly how a Sodom fan wants it to: blistering riffs, pounding drums, fast, slow, and fast again. And we come to the track 'Who Is God?', which is almost sounding like an homage to Slayer's 'Diabolus In Musica', we find it's got that wonderful, evil sound to it that has almost become a signature of Sodom.
'Sacred Warpath' brings a listener the sound of pure agony as Tom Angelripper introduced us to the beginning of the end with his introductory screams. The sounds of anguish feed into the galloping track nicely. It really does feel like the journey is coming to an unforgettable end as 'Refused to Die' wraps things up nicely. It is an end that sounds as eerie and evil as Sodom ever have, with an intro that feels like it belongs in a horror movie. There are moments that force us to bang our heads to the slow and punchy riffs. This doesn't last long, though, because if there is one thing Sodom do, it's end things on a fast and thrash note. The thrash is strong with this one, and the end result is crushing.
Overall, there is an amazing selection of songs on this album which is certainly going to please Sodom fans and even bring new ones in. It's an album that stays true to the band's roots but is certainly trying to continue to reach new fans. It's hard to believe that they wont suceed at achieving both goals with an album like 'Decision Day'.
https://www.youtube.com/watch?v=qq6oWFy-icw