The Measure is the third EP from 6-strong, East Midlands metallers, Chronicles.
Opening with crunchy guitars, meaty bass and pounding drums, the intro to 'Day Vs Knight' feels a little out of place with what follows, almost like it is a sound and level check; it does, however, give some comfort in that it demonstrates that a rather nice tone and mix has been achieved. As the track kicks in, it drops into something with an unexpectedly thrash feel, and develops a pleasingly old-school vibe with the lead work over the bridge and chorus.
'Funboy' jumps out with its lovely pace and pounding rhythms; it is a track that explores a slightly darker feel but is almost a little too sparse and basic in places.
'The Measure' is the first offering with melodic vocals and, although the styling took me by surprise, it is exactly along the lines I was looking for; it has a more traditional heavy-metal feel. The music, again, is somewhat predictable, but no less enjoyable for it.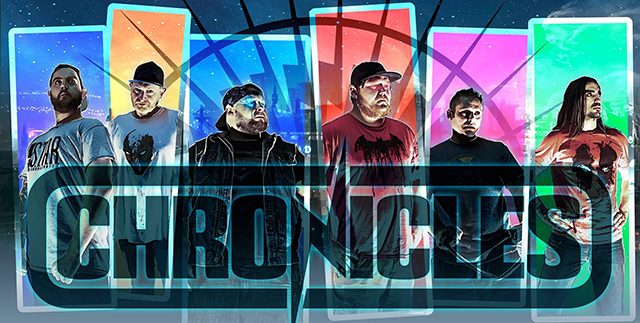 The first two tracks put in mind something of a less melodic Saliva and the surprise vocal twist in 'The Measure' sparked thoughts of Iced Earth. They appear, at first listen, to be a band that are still finding their feet; the EP seems to flit between several different influences, however, vocalist Bane Holland says that "as far as EPs go, we feel this is our strongest material yet. We used three 'different' tracks to show the diversity we have as a band and to help listeners understand more of what we are about. We don't want to be pigeon-holed into one genre. We play how we like, and we like how we play!" – this is all well and good, but this is metal and in that pigeon-hole it comfortably sits; as for sub-genres, well, this is a little harder to pinpoint but it never hurts to develop a unique edge, and, despite their awesome artwork, I just don't think this and a tongue-in-cheek, self-styled sub-genre (Street mafia geek metal) alone is going to cut it – with this said, behind the words and the artwork, there is an EP that, while it doesn't really excite, is certainly an enjoyable listen and a strong release.
The Measure was released on August 6th.
Chronicles will be playing at Bloodstock Open Air festival on Sunday, August 14th 2016 on the Hobgoblin stage at 17:15 – it would be worth seeing what can do live!
Review Overview
Summary : I look forward to seeing what these guys have to offer in the future; my hope is they will blend everything from this EP into an authentic sound and style of their own.