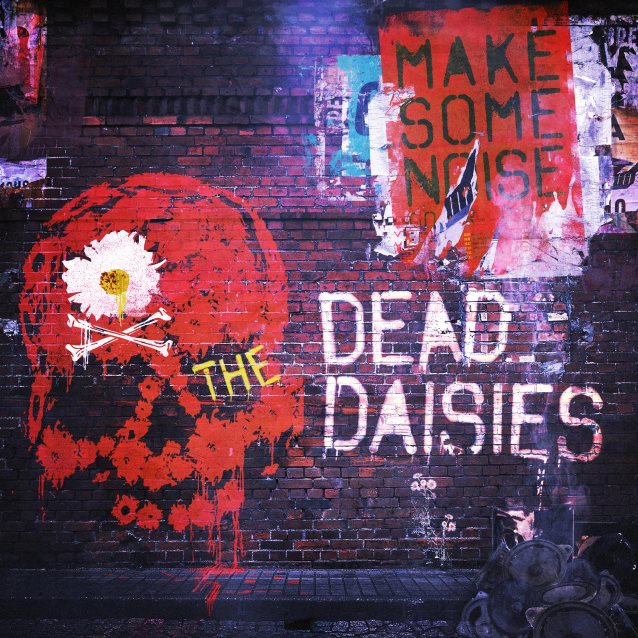 Heavyweight promotion told us to invest our ticket money on the likes of The Kings of Chaos and Hollywood Vampires but The Dead Daisies (featuring people who've played with such diverse outfits as Guns N'Roses, Nine Inch Nails, Thin Lizzy, Robert Palmer and the goddamn Rolling Stones) have been sweating their asses off in clubs, at festivals and on star-studded support slots and receiving the critical accolades.
Four years trekking along the rock 'n' roll highway and this drop-in centre for musicians looking to regain their mojo has reconfigured yet again, with three ex-members of Whitesnake joining co-founding Aussie guitarist David Lowy, and vocalist John Corabi, famous for his stint in Mötley Crüe. "The Dead Daisies mean pure fun to me," Lowy said, "this band is first and foremost about our passion for this kind of music and about celebrating classic rock 'n' roll, because one thing is clear: if we have fun in the studio and live on stage, that spark is bound to ignite our audience."
Leading off with 'Long Way To Go', a number that soars far and wide before becoming an AC/DC meets Whitesnake big-rock strut with an added Aerosmith hook chorus, they lay their credentials on the table, and in the words of Ronnie James Dio back in 1975 "If you don't like rock and roll it's too late now!" With the USA currently in presidential campaign mode, Corabi vents his anger and frustration during the first three numbers, pouring out his disdain that society's not progressed one iota here. 'We All Fall Down' is the warning that follows, while we forget the big picture and get personal on 'Song And A Prayer', though it gets a little too close to Guns N' Roses' 'Paradise City' with its Slash styled guitar melody and a similar narrative at times. Fortunately, Corabi empowers the song with spiritual hope along with a ballsy growl added to a natural Steve Tyler-style nasal sneer. While the quality of musicianship rocks throughout, it's Corabi's voice that stands out and makes you listen – indeed, don't play the odd track in isolation or quietly, this needs hearing the old fashioned way: from start to finish with the volume turned up pumping out of speakers (those listening on headphones should be whipped and chained!).
Brian Tichy's drums propel 'Mainline' as they take their feet off the pedal and Doug Aldrich applies an appropriately noisy guitar solo. They then slow down for 'Make Some Noise', where the drums play a major part again in a 'We Will Rock You' manner that's a bit dumb-jock party-rock – both are fine if you're in the mood, but a little obvious otherwise. On hearing 'Fortunate Son' first time round, I thought it failed; a fast, beating bass line from Marco Mendoza, and Lowy and Aldrich playing cheeky metal guitar chops on this Creedence Clearwater Revival cover actually felt less powerful than the straight-down-the-line, blue-collar-rocked original, however, I found myself humming the tune over the next few days and, when coming back to play this album, heard the lyrics to the song properly for the first time ever – it is so politically potent and apt for our times. You can leave the shredding guitar work aside, but I now stand and salute their foresight in drawing this generation's attention to the John Fogerty number.
'Last Time I Saw The Sun' is heavy-hooked sleaze-rock with an infectious tambourine and cymbal working alongside a four-to-the-floor beat. You can trace the song's family lineage direct from Mick Taylor-era Stones, through Steve Tyler's Aerosmith, to where we are here today. Built for stadiums, it works just as well on a sweaty dance floor. 'Mine All Mine' takes that to the next level, a ragged, ballsy-rocking, sultry-mood, head-knocking, ass-shaking delight played with confident swagger while 'How Does It Feel' is mean and arrogant with noisy guitars and a harmony chorus.
The riff to 'Freedom' runs up and down the guitar's neck with Mendoza's bass chasing after it, swooping spiritedly and biting hard between macho chorded struts syncopated by drums skipping cleverly underneath. When the middle eight cruises in from a whole other direction you could be in car driving with the sunroof down to a Whitesnake groove. Well, right up until the point the soloing guitars scream anyway. We get similarly fashioned wailing during 'All The Same', a stomp boogie that suddenly gets showy and prog-rocky during the fade out.
Make Some Noise ends with a cover of The Who's 'Join Together', a minor hit that many may not have heard. Here it is given a big, beefy drum and guitar shakedown with something of a Kiss-style makeover plus added Frampton Talk Box mixed alongside a harmonica. I'm a little unsure about it myself, but I could see it becoming a great singalong live.