The story of Steel Panther is an unlikely one:  front-man Michael Starr has recorded lead vocals with LA Guns, backing vocals for AFI, and appeared in a movie with Mark Wahlberg. Yet this was years before Steel Panther even existed.  "Four years on, I can't believe we're still here" Starr confesses.  Who would think a comedic glam-metal band, whose lyrics are far from suitable for the Radio 1 playlist, would sell out an extensive UK tour in 2015. This is tangible proof that the live music industry is alive and well in this day and age.
Throughout the packed out hall where almost every bloke is wearing 'ironic' spandex – nobody seems to know what to expect from opening act The Lounge Kittens. Other than a few confused looks from younger fans, women in day-glow dresses singing rock songs in 3-part harmony are the perfect support for Steel Panther. Treating us to 'Wartime' esque covers of tracks by Slipknot, Andrew WK, Limp Bizkit, Metallica and a medley of Prodigy songs, The Lounge Kittens are a spectacle that needs to be heard (and seen) to be believed. Like Hayseed Dixie, their covers breathe new life in to classics – but in some cases younger fans could not identify with references to songs by Staid and POD (which makes me feel quite old).  In all a great way to ease us in to tonight's proceedings. Especially with special versions of 'Gloryhole' (Steel Panther) and 'Kill The Power' (Skindred).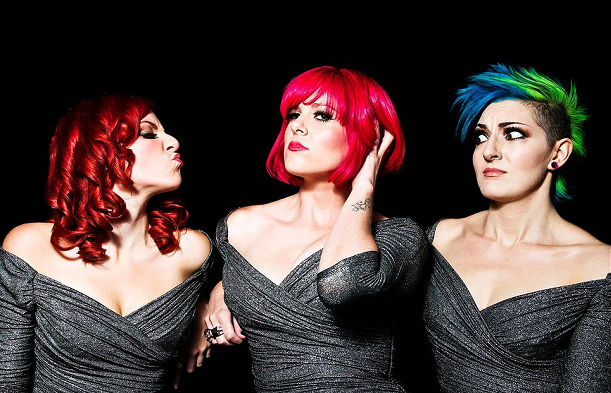 Next up are friends of RAMzine, Skindred. It's been said many times before but this tour could be the right exposure they need to break through to a wider audience. The Newport nu-metallists have produced some great output in the past decade and never disappoint live.  Tonight is no exception –  Benji Webbe walks on stage dressed like a cross between Michael Jackson and Rob Halford, he gets the crowd jumping instantly with 'Pressure'.  Fusing elements of dub, metal, punk and hip hop – it's a surprise Skindred aren't headlining bigger venues than this Academy.
Webbe doesn't give a damn if he is headlining are not, his crowd interaction is what makes this a brilliant live experience.  Anyone who has seen Skindred live will know how epic the 'Newport helicopter' is in person. This was one of those moments. With a mixed audience of young and old music-lovers who might not have heard of the 'Dred before tonight, this might be the perfect tour for the band. Expect bigger things next time Benji and co. hit the road.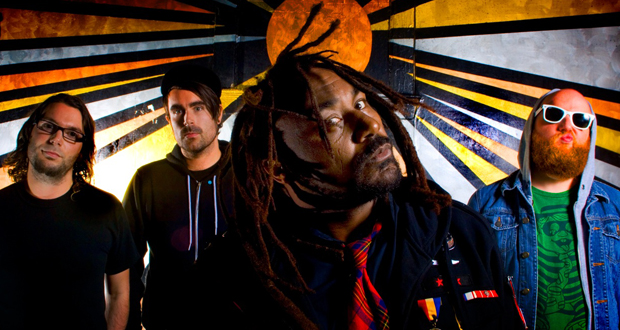 After Iron Maiden's 'Number of The Beast' is played in full over the PA, a black curtain falls to reveal a stage set that wouldn't go a miss in a Bon Jovi video. Complete with a full length mirror and 'wind-machine' for to give bassist Lexxi Foxx achieve his 'look'. Starting off with a song called 'Pussywhipped' sets the mood for things to follow.  Lead singer Michael Starr then launches into the next track starting with the lyric 'Have sex!' fans go crazy for 'Party Like Tomorrow is the End of the World' and you would be forgiven for thinking the set-list is upside down as the LA cock-rockers push on with live favourites like 'Fat Girl'  and 'The Shocker'.
Some might think Steel Panther are all about looks, but as they have proven so far tonight – their music speaks for itself. Any way… the band pause for Lexxi's 'hair solo'. This is what rock 'n' roll is all about! Big hair and guy-liner aside, Panther are still a solid live act. The 2,000 people in the venue handing over good money to see them is living proof that rock is far from dead. Some bands just care about the fame and the women. Anyway… the next song, '17 Girls In A Row' sees Starr hand pick the right about of female fans to join him on stage. Although (very) distracting, the lads in Lycra still deliver.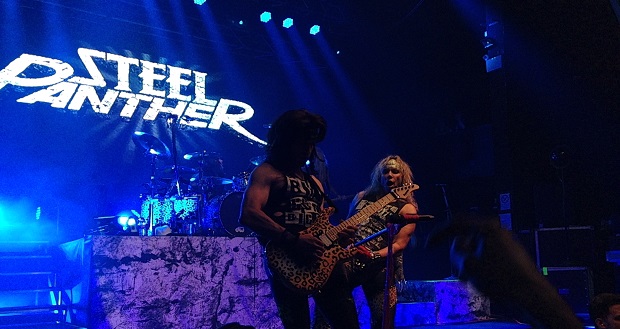 The ever catchy 'Gloryhole' follow, and we're only halfway through. Through a sea of crowd banter a grand piano appears on stage. Drummer Stix Zadinia shows off his stills tickling the ivories for their internet hit 'Kanye'.  Starr tells the crowd that every Steel Panther fan has something in common- a collective resentment to Kanye West. I'm glad the rock industry are standing up for themselves in this way.  This followed with acoustic renditions of 'Weenie Ride' and 'Stripper Girl'. 
 Panther are pure entertainment – humour, great music, crowd interaction, what more do you want? For a band who play music that by most would be considered 'outdated' – it's a real achievement they sell out big venues and 1,000s of albums worldwide. Guitarist Satchel proposes "Why don't we just lock the doors, play until 4am and give out free beer?" sounds like a great night, but sadly there's a 11pm curfew bro. Wrapping up with 'Asian Hooker' , calling card 'Eyes of The Panther' and breakthrough track 'Death To All But Metal'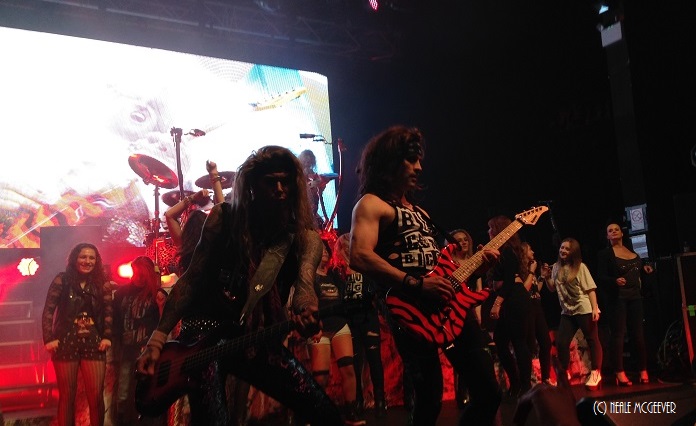 Yet, the show ain't over. The hilarious tribute to those soppy power-ballad is Panther's encore, which gets everyone singing :
'Cause my heart belongs to you / My love is pure and true / My heart belongs to you / But my c**k is community property.
Only at a Steel Panther gig. Going back to the party mood, the lads from Los Angeles finish with 'Party All Day (F**k All night)' cueing two huge confetti bombs. Perfect end to a perfect performance. Raining with coloured confetti, this feels like one of those rock concerts you see in the movies – like Alice Cooper on Wayne's World, for example. This could have been 1985 or 2015. One of the reasons Panther have such an appeal with young fans is the fact they previously never had a 'proper' heavy metal band: a band with crazy hairstyles, a band who but 100% in to live shows, a band with hilarious and catchy lyrics. May Steel Panther continue to sell-out bigger venues around the world and thrill live music fans new and old.
Long live the Panther!