Suicide Silence are an American band from Riverside, California. Formed in 2002, and specialise in death core. They actually started out as a side project as all the members were actually in other bands at the time and their sound when they started out was more of a sludgy nature, unlike the extreme death core they now play.
Not without a bands usual struggles of line-up changes since they first started out, Suicide Silence were also unfortunate to suffer the loss of their front-man Mitch Lucker who at just 28 died tragically in a motorbike accident in California in 2012.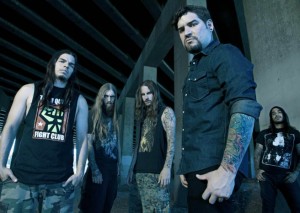 The band, quite rightly so, decided it would be quite fitting and decided to do a Mitch Lucker Tribute Memorial Show, which saw various vocalists sing on each track and by autumn 2013 they found their new vocalist, All Shall Perish frontman Eddie Hermida.
Suicide Silence use music as a weapon and are capable of inflicting severe pain on the aural, savagely beating and crushing with a dynamic force field that doesn't diminish but just grows stronger with each album release, and "You can't stop me" is no exception to the rule!
The band can easily whip up a storm in the pit and cause a few weak links in the neck to snap violently, as each breakdown annihilates, and each riff torments with equal brutality. They don't hold back which is why they are one of the bands I really love listening to – because there is nothing nicer than being bludgeoned over the head with a nice slab of death core!
As each track leaves a trail of destruction in its wake they become increasingly more dominant and can definitely be described as 'In your face' punishing, extreme raucous metal and this album will no doubt delight their fans from all over the globe. Here is our track-by-track review of the new album 'You Can't Stop Me'.
'MAL'
This track is just a short interlude to prepare you for what is about to hit your ears!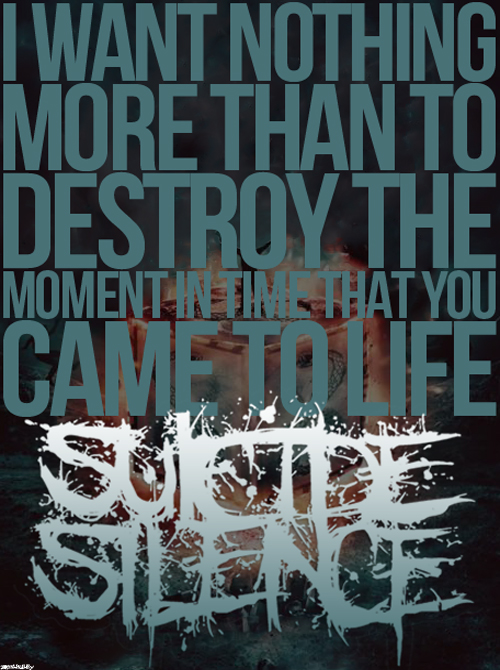 'Inherit the Crown'
The silver throated screeches of Eddie do not go unnoticed, as they slice through the sound barrier along with a rampaging barrage of crippling rhythms to back it up.
'Cease to Exist'
Deeply scarring drum beats dominate the track, causing extreme mayhem as it unleashes a deadly forceful vengeance, fueled by the ferocity of a savage riff or three!
'Sacred Words'
This is where the diversity breaths as a more melodic flavour can be experienced with a more caressing guitar, however this lullaby soon turns into a deep gaping wound of poison.
'Control'
Burning the aural and disorientating the listener to levels unimaginable this track sees bludgeoning drum beats, shrill guitar and more obligatory screeches.
'Warrior'
This is a fast paced onslaught of fluctuating rhythms that are cut throat and savage being potent to the last breath and unveiling those nice deep throaty growls.
'You can't stop me'
The title track on the album and – no! We know we can't stop Suicide Silence in their tracks as this intensifies, and the surging melee evolves with the help of bone crushing harmonies amid an insatiable groove.
'Monster Within'
With lustful appetite and a vocal scourging scraping the bottom of hell itself, will have you salivating, as inevitably this will crush you with its bold rhythms and insatiable vocal dexterity.
'We have all had enough'
Speak for yourself! The party has just begun. What may appear to be another lullaby of guitar suddenly turns dark and foreboding as it broods into a rampaging madness of rabid primeval terror? Did you expect anything different?
'Ending is the Beginning'
After successfully breaking the sound barrier with deep ravenous growls and unearthly screams the sounds made by Suicide Silence here are just not possible, as the deadly onslaught turns feverishly into malevolent intent.
'Don't Die'
Unrelenting, and unmerciful this track turns crazily into an epidemic from the hot labyrinths of hell. It is dramatic and awash with pleasurable destructiveness and leave the senses totally disorientated – that is if you have any senses left?
'Ouroboros'
Fuck is this the end already? Surely not ☹ this tracks starts off slow, then the obligatory speed starts up and as you can imagine all hell breaks loose, with dark demonic growls and addictive harsh whispers. It is out to attack and of course without mercy it does just that and more besides.
In summary, I can actually say that this album raised my heartbeat more than having a good workout at the gym and even as the music finishes it is taking some time for my rapid heartbeats to slow down.
Through-out the entirety of this album the intensity fulfills and rewards with its harsh attack on the audial. The blistering screeches seem to come from nowhere whilst the demonic growls fester to an overall vicious relentlessness that feeds vehemently on predacious grooves with even more threatening and brutal intent.
It may be some time before I get off this 'high' with ears still ringing and hands shaking, trying to keep up the pace on the keyboard to type, to its lavish rhythms that strike the imagination with unbridled torment – but what an amazing journey it has been so far.
This album makes its mark and will leave not only welts but deep, deep, scars. Wear them with pride! High velocity blood splatter is common when listening to Suicide Silence!
(Dedicated to Mitchell Adam "Mitch" Lucker (October 20, 1984 – November 1, 2012)
10/10
The 12 track album from Suicide Silence 'You Can't Stop Me' is out now via Nuclear Blast.
-FULL ALBUM STREAM-

The album marks the debut of new vocalist Eddie Hermida (ex-ALL SHALL PERISH) and is their first full-length recording since the tragic loss of singer Mitch Lucker.
'You Can't Stop Me' was produced and mixed by Steve Evetts (SEPULTURA, THE DILLINGER ESCAPE PLAN, WARBRINGER) and features artwork by Tim Minarzik of Throne Media & Design. The album also includes some special guest appearances by Greg Puciato (THE DILLINGER ESCAPE PLAN) and George 'Corpsegrinder' Fisher (CANNIBAL CORPSE).
Guitarist Mark Heylmun recently explained: "Mitch left behind a set of lyrics with the title 'You Can't Stop Me'. This gave us chills to say the least and we knew we had the title and title track. This filled us with inspiration for writing sessions to empower us and empower you, the supporters of SUICIDE SILENCE".

"We as a band (and Steve Evetts) worked tirelessly on this record and I'm not gonna say we can't wait for you to hear it. I'm gonna tell you that you have to hear it. You have to sit and listen from start to finish. I'm not gonna tell you this is our best record we've ever done. I'm gonna tell you this is the record we care more about than any record we've ever done. This is a record that we fought, bled, sweated and fucking cried over".
View a short clip documenting the making-of 'You Can't Stop Me'