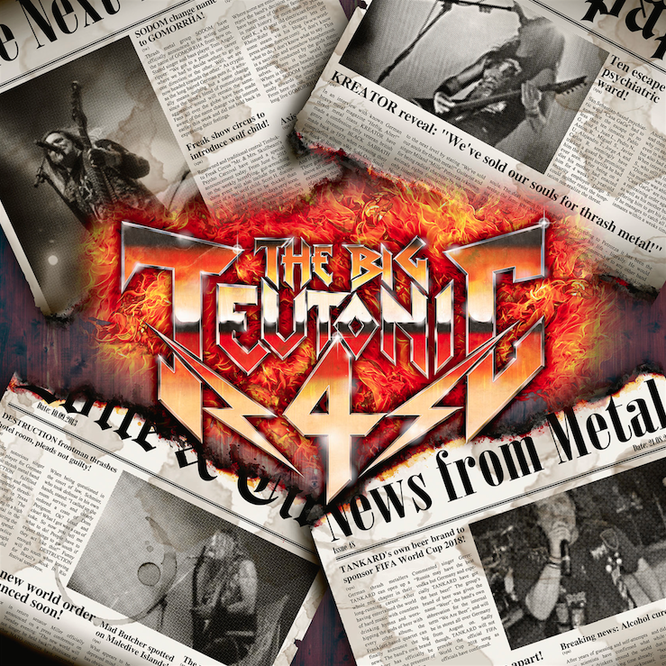 From the early 80's on they've been the leading figures of Germany's thrash metal scene, shaping an entire genre that soon should spread all over Europe and inspiring countless young combos that eagerly followed their lead: THE BIG TEUTONIC 4! KREATOR, TANKARD, DESTRUCTION and SODOM – by now household names in metal – have relentlessly worked their way up from the underground to international fame, without ever losing their passion, truthfulness or integrity. That's why their popularity has remained unabated and their songs remain pure, even after three decades in the business!
Track-By-Track Review
Kreator – Lambs to the Slaughter (Raven cover)
The original Raven version is somewhat raw and primitive and Kreator have given it a vicious kick up the ass, but we are talking Kreator here so that isn't a very big jaw dropping moment with Kreator having really made this cover their own, and losing the introductory and rather amateurish spoken words on the original.
Sodom – Don't Walk Away (Tank cover)
Taken from Tank's 1981 3 track release – I actually prefer the original version to Sodom's, as Sodom seem to have extracted some of the passion from the track somehow making it sound far too polished. (80's tracks were always slightly primitive, probably due to being produced on vinyl) although that superb bass hook is still there so they can be forgiven just this once!
Destruction – Princess of the Night (Saxon cover)
Destruction have made this Saxon track far more grittier than the original although it is hard to dismiss Saxon's version as they are metal legends in their own right and given the 80's a good old metal battering. So I will just have to say I love both versions just as much, which may be a cop out but both bands are indeed superb!
Tankard – Iron Maiden (Iron Maiden cover)
Although Iron Maiden took the world by storm in the 80's after meeting Harris and Burr, my estimation of the band went down considerably, however, their music will live on for a long time to come yet and Tankard's version is just as gripping as the original although I have always loved Dianno's vocals, for me he is Iron Maiden in a nutshell!
[divider]
It comes as no big surprise why these bands have gained the status of the "Big Teutonic Four!" and have put together this E.P of sorts worshipping their idols and let's face it we all have them! But and there is a rather large BUT here, Why do covers? Wouldn't it have been better to have produced some new stuff and maybe dedicated it to their idols? As it could be deemed as "We can do your material better!"
Starting from the early 80's the Big Teutonic Four have led the German Thrash scene and shaped music as we now know it today! The mega kings of thrash metal have now produced their own versions of some of the greatest metal of… well maybe all time, and it comes in various coloured 10" vinyl too, black, red or yellow and on the great Nuclear Blast Label. For me I would still prefer to hear the original versions of tracks by the original bands and new tracks from the Big Teutonic Four!
The Big Teutonic Four 'Part II' is out via  Nuclear Blast Records on 13th March 2015.
[divider]
Track List:
Side A
1. Kreator – Lambs to the Slaughter (Raven cover)
2. Sodom – Don't Walk Away (Tank cover)
Side B
1. Destruction – Princess of the Night (Saxon cover)
2. Tankard – Iron Maiden (Iron Maiden cover)
Members:
Destruction
Mike – Guitars
Schmier – Vocals, Bass
Vaaver – Drums
Kreator
Sami Yli-Sirniö – Guitars
Ventor – Drums
Christian "Speesy" Giesler – Bass
Mille Petrozza – Vocals, Guitars
Sodom
Tom Angelripper – Bass, Vocals
Makka – Drums
Bernemann – Guitars
Tankard
Olaf Zissel – Drums
Gerre – Vocals
Frank Thorwarth – Bass
Andy Gutjahr – Guitars