With a Chuck Berry lick giving us the come-on Thundermother are off and running with the hard rocking coy-rhyming reverse-sexism couplets of 'It's Just A Tease'. It's high on youthful energy as is the whole of this album, one that frequently gives a saucy nod and a wink to Bon Scott-era AC/DC. 'FFWF' most assuredly goes that route as Clare Cunningham sings out "Fight fire with fire!" in a rowdy 'Ballroom Blitz' manner.
Cunningham has indeed got a healthy set of pipes on her as she lets rip with a "Woah-yeah" that while a little obvious that we're adding Zeppelin IV groove to our AC/DC rock boogie on 'Alright Alright' is pulled off with aplomb, along with some colourful guitar fills in between. Comparisons to Motorhead and early Girlschool can't be ignored with the jerky bludgeon of new single 'Deal With The Devil' and while you admire their influences, you want them to be a little less blatant, that said it rumbles along well and has a musical shift near the end that's so slight you might miss it, but is a mischievously invigorating little addition. 'Give Me Some Lights' mixes the lyrical joie de vie found in such classics as 'If You Want Blood' and 'Let There Be Rock' as the girls celebrate the sheer excitement of hitting the stage and rocking out loud, it's propelled by Linda Strom and Tilda Stenqvist holding down then stirring up the rhythm section end, and as with many of their songs has lyrics intended for crowd participation.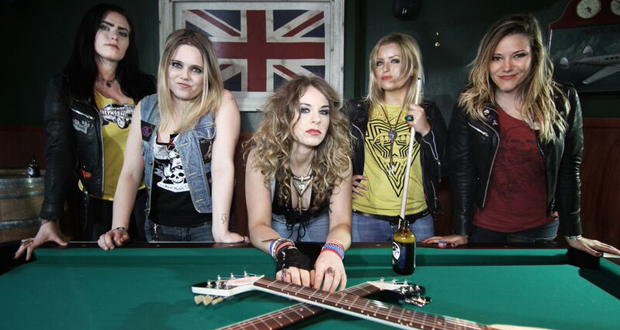 'Roadkill' is noisy boogie rock with arms thrust hard in the air. Giorgia Carteri's rhythm and Filippa Nassil's lead play off each other in the opening salvo of 'Enemy' as Cunningham pours scorn on some bitch who's done her wrong. Ain't mother like a woman scorned. That they contradict this down the road with closing number 'Rock n Roll Sisterhood' leads to some irony however. Such songs are great rallying chants for the young who think they're disenfranchised but reality tends to kick in and sour such ideals as you get older. And as this aged soul contemplates such thoughts, 'Vagabond' comes on, moving a little slower just like him, guitars in harmony ala Thin Lizzy but more your Southern rock band in overall tone, telling you about life on the open road. It's the heavy heart-weary moody number you place about three-quarters through your live set, but it rarely misses hitting the emotional spot.
'Thunder Machine' moves to a steady grinding sexual beat, with a little rock 'n' roll riff of the sort Angus made sound brand new when the world was Young, and has Nassil doing so here again, inflecting it with adlibs at various points, with the kind of dramatic chord pauses Page used to throw in for good effect. Is a thunder machine an amp, a guitar or some metaphor for the whole rock and roll lifestyle that once you're on it's hard to get off? Damned if know, maybe it's a bigger version of Humble Pie's 'Thunder Box'. Who cares, this one works to a different beat; one for those wanting to get horny.
Thundermother's Rock N' Roll Disaster reached #2 in the Swedish national charts, that Road Fever will follow suit I have no doubt. It's an exuberant cornucopia of raw and raucous hard 'n' heavy rock 'n' roll, with songs that at times are all so innocently fun and at others downright raunchy. That as they develop and reach out to a wider audience they will need to expand their template and rely less on their influences should become apparent to them, but for now they're young and can do what the hell they like.
As RAMzine previously noted Thundermother will be playing the UK soon, and it's a crying shame they'll not be hitting my neck of the woods.