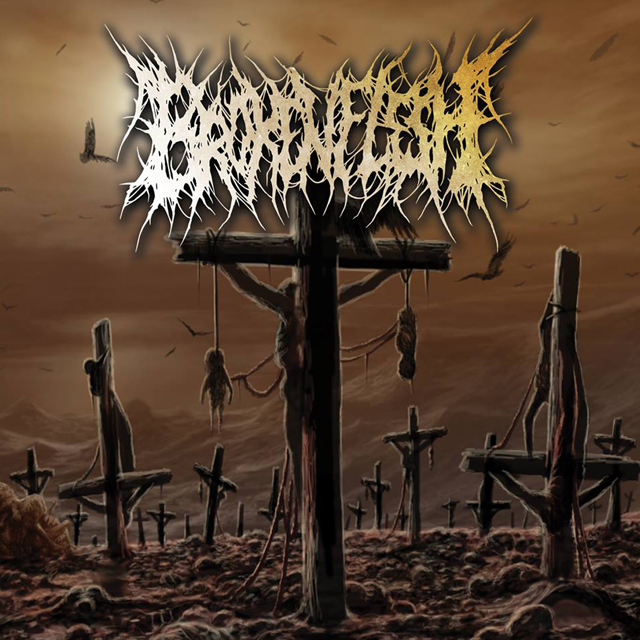 Formed in 2004 Broken Flesh are no strangers to the live scene, having performed with bands such as Cannibal Corpse, Whitechapel, Suicide Silence, The Black Dahlia Murder, Dying Fetus and others!
There is a distinct message here which says to me that this band are Christians through and through and quite open about it. I am not a believer in God myself, but there is no disrespecting their music what so ever, I find it quite quirky that a death metal band would find solace in something that doesn't (in my eyes) exist!
I am not against people who believe in anything that brings them some comfort, although for me the music that I can fully engage in, hear and explore has to be my God there will be no changing my mind on that either! Here is my track-by-track review of Broken Flesh's self-tittled, September 2015 release.
Valley of Mass Crucifixion
Obviously trying to get across the message that Jesus died for our sins – that it may be but we are paying the price. Musically superb no matter what the band are singing about – hard to tell with death metal but the pent up aggression and raw sound is what death metal is all about – so I have to forgive them as they know not what they do.
Blood Harvest
The gruelling hearty destructive vocals boom out intensely to this brutal track as usual incoherent but you get the idea – amid a backdrop of insane beats and caustic riffs its savagery knows no limits and bludgeons its way through a wall of mesmerizing frenzy.
Consumed by Death
Is a rampaging track with agitated rhythms and sounds like an exorcism is taking place! The raucous lashes of a gnarly and intense vocals dominate through a mass of seething riffs and arduous blast beats.
Buried Alive
Is a bewitching track that hosts a thrilling and exciting proposal of dark delights, although it is hard to tell if they are meant for the light or indeed the dark? Personally I would hope they are for the latter, judging by the title.
Hell
With vicious and raw emotion this track growls the way through its paces and stops little of pure annihilation. Seething structures of energised but inhospitable lures cloak the ears with a rich madness.
Cries of the Dead
The rasping throaty vocal chords twist in an unfathomable barbaric vein along with a forceful deep battering of drum beats and edgy rhythms just melt into a congealing mass of pure intensity.
Forever in Flames
Continuing with more of the same toxic and rabid rhythms of immense grandeur the cacophony brutalises the ear drums that can hardly keep pace with the ferocity it is witnessing.
Unworthy
With the air now covered in a black mist (or for Christians a white light) this track consumes and devours with every riff and beat it can muster! The vocals sound tormenting and raw and provoke the senses with pulverising aggression.
Exalt
Let the snorting and pig squealing commence through a potent wind tunnel that magnifies the deathly sound to one of extreme torture.
Ignominy
Hard to get your teeth around the title of this track, although by the time you have mastered it, the brutish riffs and beats simultaneously will have ripped you a new set and turned your ears inside out as well!
By His Blood
As if the malice couldn't become any more aggressive, this one seems to have pushed it up a notch and weighed down by its own extreme weight, the gruelling structure leaves a path of destruction in its wake.
Hate
Just about says it all really, although is that hate for non-believers? Saying that, I have to say I love the track for its quickening aggression and creatively inflamed passion.
Overall, I have to say I have never really thought of Christians forming a death metal band and never even reviewed such a band before, or even knew that there was such a thing called Christian Death Metal! But whatever the message Broken Flesh sure know how to engage with their skilled savagery, even if it does hold a (slight) Christian message.
Amen