Ever wondered what it would sound like if a six-string wizard like Joe Satriani joined Sunny Day Real Estate to add some tasty, technical licks to the wall of post-teen angst rock music more commonly known as emo?
Honestly, neither had we in the RAMzine offices until we had the pleasure of hearing 'Celebrate', the 2016 album from Minnesota trio, Tiny Moving Parts. An album that would of so easily been passed off as just another addition to the collection of pop-punk and emo (by which we mean emo in it's truest form. Not the My Chemical Romance soundtracked, red eyeshadow coated 'emo' of the mid-2000's. Not to say that both aren't just as wonderful as each other!) revival bands taking over the alternative music scene over the last couple of years. A scene that is, arguably, somewhat on the oversaturated side, yet simultaneously jam-packed full of incredible bands such as T.M.P, Beach Slang, Moose Blood and The Young Hearts.
Luckily, when an album stands out this much from the crowd, people are going to take notice. Enough notice that two years on, we are proud to have been gifted with the absolutely awesome creation that is the band's brand new album Swell. Another tour de force of masterful musicianship that proves that these guys sure as shit aren't just a one trick pony.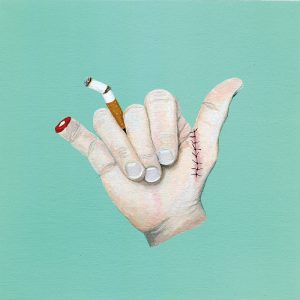 Straight from the off, the aforementioned six string work takes centre stage, with opener 'Applause' packed full of moments that are so damned smooth, you'd be forgiven if you believed there was some sort of synth work at play. There is, of course, an abundance of the more typical thrashes, strums and pickings more commonly associated with bands aiming for this sort of sound, but the moments of expert musical skill help to add an intensity to the sonic force on show, jam-packed with angst, pent-up frustration and that delightful brand of cynicism that any self-respecting modern rocker should love (even if it is a secret pleasure).
This theme runs throughout the ten track span of the album, with notable mentions going to the marvellously morbid 'Feel Alive' and the heart-wrenching 'It's Cold Tonight'. The latter of which taps into all the lyrical cliches of self-pity and internal personal reflection, yet feels so raw and emotional, that anyone who has ever held any sort of feelings of being unsure of who they are and what it is they are doing with their life can feel an affinity with the writing of front-man Dylan Matheissen. Such honesty and relatable feeling are so rarely found in the music industry as a whole, particularly in the cookie cutter state of the modern music industry, so is to be applauded at every opportunity. No, the vocal work is nothing to write home about technically, but it's so natural and free from studio tinkering, that it only adds to what is already a fantastic product.
In summary, regardless of whether the work of these three gentlemen falls into your usual listening habits, you owe it to yourself to get a copy of this album and take the time to listen through to it, undisturbed by the outside world.
We're barely out of the first month of 2018, but Tiny Moving Parts have already released a strong contender for the best alternative (and possibly best overall) album of the year.