I was the first one on the phone ranting about this album to friends. Kindred spirits, some of us old enough to be granddads, who'd been both Whitesnake connoisseurs and naysayers since the band first uncoiled its way onto vinyl, and even a couple who we look at dubiously when they say they've seen David Coverdale live with Deep Purple. But I was the first to open my gob and give The Purple Album a verbal bashing.
"His voice is shot!"… "Why doesn't he get rid of those Yank session musicians!"… "Maybe he's gone deaf and they're all afraid to tell him?"… "Surely he doesn't need the money?"… "Maybe it's a record contract commitment; then he'll retire?" We all had an opinion, none of them good, and all pretty much based on the two promotional video singles released, 'Burn' and 'Stormbringer', each being the title tracks from the two Deep Purple Mark III studio albums released back in the 70s. "Classics, man."… "You, don't screw around with those."… And so we let it lie, chalking it up to another of life's unfortunate surprises, like divorce, receding hairlines, and having the doc prescribe you pills to get you through the day rather than a little high. With my health fast going down the toilet, giving The Purple Album a proper listen wasn't high on my agenda. Then came the sun, and with it a garden that had turned into a jungle as noticed by a wife who opened the curtains of my sick bed and suggested a little light exercise might prove beneficial. Cursing her for always being right I stormed down out the back armed with a random selection of music – old and new – and enough amplification to annoy the next road's neighbours at the very least.
The Purple Album kept getting played, randomly at first, then apparently by choice. At first, I was trying to trying to figure out why the album had been made; I'm still pondering that and not expecting to ever find a good enough reason I'll get my head behind. But here are the barest facts: David Coverdale made three studio albums while a singer within Deep Purple and he has re-recorded tracks from them with his current version of Whitesnake. Here's a subjective sweeping statement: years of screaming at the higher end of his voice to market Whitesnake to the MTV generation, along with the natural process of ageing, has taken its toll on Coverdale's voice, no matter how talented the sidemen, and regardless of  how sophisticated engineering has become, it needs to be compared with the creativity and times that birthed those songs. But the overall aural and emotional personal response?
Initially, the more limited, harsher rasp of Coverdale's voice on some of the songs is grating compared to the warm brandy swirl of yesteryears; then one adjusts, sympathises and appreciates on its own merits. In fact, alongside some of the more fluid arrangements, some of this album put me in mind of Krokus lead vocalist Marc Storace's early 70s band Tea, but that, too, passed. Within the studio, for the most part, the vocalist has applied his voice accordingly, and the nuances of phrasing applied do indeed add a different and valid dimension to a number of songs that the old gits among us may have become over-familiar with.
Those two video singles weren't going to win over the diehards, however. First out the gatepost and running a little fast is 'Burn', which fails to achieve the same kick into the chorus as Ian Paice's original recording. The instrumental section has the guitarists being too flash, overcompensating to make their mark but the more modern keyboard sound is effective. Concluding the album, 'Stormbringer' is one for the death metal-lite crowd with lots of processed vocal effects, so it's really down to the other tracks to give you more bang for your buck.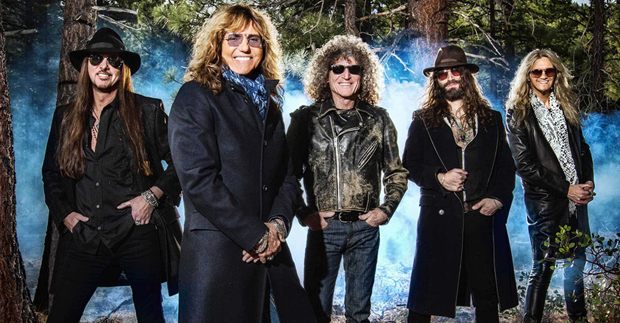 A blues harmonica starts 'You Fool No One' before the guitars simplify the main riff to a more rugged 'Train Kept A Rollin' Yardbirds' feel (maybe him being a Jeff Beck fan, that was Ritchie Blackmore's own original influence) and it then goes into an extended instrumental section that owes more to latter day Purple guitarist Tommy Bolin's solo career and Steve Morse's Dixie Dregs, that proves to be an interesting musical detour, but there's a significant lack of cowbell throughout, again making one realise just what Paice put into those recordings. When 'Love Child' from Come Taste The Band (Bolin's only recorded album with Purple) appears, it oddly comes over rather sluggish musically, lacking the libido element of the original, but Coverdale himself does rise to the occasion, through phrasing and adding unique nuances to certain lines, most particularly the half-spoken "Always teasing me". It should be noted that this song has Whitesnake pedigree, having been played on the band's debut UK club tour. Also, from the Bolin Mark IV version of the band, comes 'You Keep On Moving' although written much earlier, when Glenn Hughes visited Coverdale at his flat in Redcar just after both had officially joined the band. Blackmore apparently rejected the number, which is odd since its bass line wasn't too far removed from the style of Free, whose vocalist (Paul Rogers) Purple had been courting before they went with Coverdale. Taking all the lead lines himself this time round (though the backing vocalist prevalent on all these tracks echoes Hughes' harmony style), there's more concern and veiled threat to the interpretation than the hope that imbued the original, so can be viewed as life looked back in hindsight. I'm not over fond of the broken chords jangling away, and lessening the impact of the bass line, but once the solo comes along it goes off in an interesting direction.
Fairing very well, as what is pretty much a straight cover, is the rock and roll rush of 'Lady Double Dealer', neither does Coverdale's old signature tune 'Mistreated' divert too much from its blueprint, but time seems to have moved on and the tune no longer holds that epic quality. Basically, a slow blues number with a simple but thunderously tortured guitar lick from Blackmore while Coverdale wrenched emotionally about his broken heart, it may now lack a little of the power of the original and the bellowing rage of the quite brilliant Made In Europe Live vocal version but it has a sympathetic weariness that proves a well-acted reading. The song defined the Coverdale of yesteryear and, as such, had to be carried over and played live by the original Whitesnake, while another track that got a renewed airing, if only for the Trouble tour when Bernie Marsden took the Hughes vocal part, was 'Might Just Take Your Life' and here the new band give it a Coverdale/Page reboot as country boogie with added heavy metal sheen. Curiously the opening guitars for 'Lay Down Stay Down' open with a variation of the introduction to the Blackmore's Rainbow track 'Tarot Woman' (where Tony Carey's synthesiser solo itself was based on Terry Riley's 'Rainbow in C') but then shifts into an atypical slippery Whitesnake groove. It's less vital than the original but not bad.
Where these "re-imaginings" truly work is when they cut back on the more aggressive macho rock stances and shift the song's focus. Not necessarily bringing out the acoustic guitars, though that works in some cases, but focusing on the guts of the songs then expanding them musically rather than revving up to play a million notes per second. It also allows the David Coverdale of today to respond, revise and even reinvigorate certain aspects. Heading in that direction is Coverdale's secondary signature tune 'Soldier Of Fortune' that features a pleasant arrangement, albeit American county fair flavoured with its acoustic guitars picking away than Blackmore's statement of future medieval intent as featured on the B-side of the vinyl Stormbringer album.
The decision to record the other lighter, more ballad style number from that album was the one that had been raising a few eyebrows prior to its release. This was because 'Holy Man' though featuring Coverdale in its writing credits was sung entirely by Hughes first time round – in fact it's not too dissimilar to 'It's Only A Dream' that opened Hughes' former band Trapeze's debut album. Now both those songs had a downbeat vibe to them vocally, and whereas that world weariness is a plus in the reinterpretation of a lot of these songs here by Coverdale on this one he delivers an uplifting tempered gospel reading, strong, honest and well-dictated. That the band's 12 string guitar and keyboard arrangement give a nod and a wink to 'Stairway To Heaven' as if played by Styx actually adds to the charm. I always liked the underrated 'Gypsy' but it was probably considered a less butch lyrical partner to 'Soldier Of Fortune' and Blackmore's inquisitive guitar line, while compelling, never reached the kind of declamatory conclusion Purple fans expected. Here guitarists Reb Beach and Joel Hooekstra use the Blackmore blueprint as inspiration, modernise it with compassion and deliver a compelling sound that brings a satisfaction the original's production denied, while Coverdale's phrases keenly offering an, at times, whimsical at others weary regret concerning life's past foibles.
Half way between the aged bliss of 'Holy Man' and judgement day wariness of 'Gypsy' comes the prodigal son journey of 'Sail Away'. Coverdale's voice in a perfect comfort zone, warm and resonant. The change in this song is pretty total instrumentally. What was a Free style riff (written by Blackmore with Rogers in mind?) now has cascading strummed acoustics more reminiscent of some early Genesis part work with added gentle gospel harmonies.
For those generations brought up on Whitesnake since 'Still Of The Night' roared out of a video screen most of the songs on The Purple Album will be completely brand new to them, if they like them that's cool and I recommend they check out the original albums if only for the running sequence to be heard as a compositional whole. For those of us brushing over our bald patches, it's time to get our ears checked, have patience and listen, reflect but also rejoice – Remember that feeling in your groin as 'Lady Double Dealer'  lashes out wildly and how your heart beat with passion on hearing 'Holy Man'.
Could I have lived without ever hearing The Purple Album? For sure, but rash pre-judgement has been met with general approval, and, yes, this old git will continue to play tracks off it alongside the original classics.