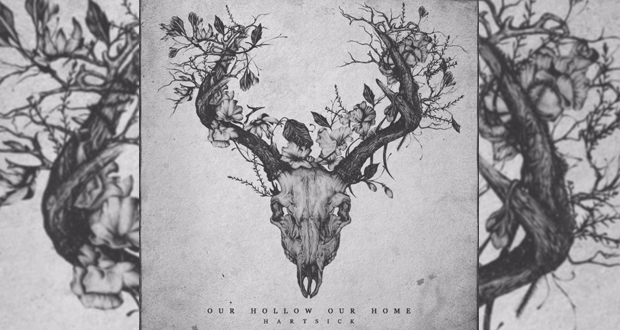 Southampton's metalcore heavyweights Our Hollow Our Home recently announced the release date for their long-awaited debut album, Hartsick. Fans had been left on tenterhooks for a full album since the release of 2015's submersive Redefine EP, and have enjoyed the tantalising drip feeding of Hartsick singles over recent months. Now, the loyal and the steadfast have been rewarded with a release date of March 3rd for Hartsick, and an album worthy of the wait.

Hartsick singles have so far received high praise from the likes of Kerrang and Rock Sound, and an impressive audience response from over the over 860,000 YouTube views to date, and the rest of the album won't fail to impress either. Kicking off the substantial fourteen track album is 'The Sea Will Sleep', which opens the door and tells you in no uncertain terms that this is Our Hollow Our Home…but not quite as you remember it.
Hartsick is the Our Hollow Our Home boys, taken up a notch. A spectrum of influences are apparent in the music, and skill shown in making it their own, more than explains the time it's taken to get to a release date. From the impressive vocal ranges from Toby Young and Connor Halliesy, to the thoughtful instrumentals, unexpected breakdowns, and sheer skill of Josh White, Bobby Brooks, and Nick Taliadoros makes Hartsick a stand out album of 2017, and it's only February. This is the kind of defining album which will usher them on to bigger venues and new festivals.

 To kick start the 2017 live music season Hartsick is being launched with an accompanying UK tour starting in London on March 24th, Leeds, Sheffield, Newcastle, Edinburgh, Glasgow, Huddersfield, Bridgend, Plymouth, and finally the boys' home town of Southampton on April 7th for the official album launch party. You can also find them at FortFest in Bedfordshire on Saturday 5th August. Our Hollow Our Home will be off for an EU run soon after, and plans for an Asian tour in the works for later in the year.
 Hartsick is an exciting, powerful, and competent album, which stands to open some serious doors for Our Hollow Our Home in 2017. You can download the singles online, pre-order the album from iTunes now, and follow the boys on Facebook, Twitter, Instagram and YouTube for ticket links, videos and more.